Move over, Siri. Some new consumer products will include the artificial intelligence platform and "Jeopardy!" winner, Watson. IBM announced at CES 2016 that it has partnered with Under Armour to use Watson in the company's fitness app to help make suggestions based on health data. Watson will also power a new robot from the Japan-based SoftBank company. The Pepper robot is designed to provide an interactive experience that would replace the kiosks in retail stores, banks and hotels.
These new partnerships represent a new strategy to bring Watson to more consumers. Earlier this year, IBM created a Cognitive Business Solutions unit and an Internet of Things Center to expand the Watson brand. The company has also acquired 30 different businesses to expand Watson's expertise. Currently, Watson is mainly utilized for large enterprise applications in fields like medical research and finance.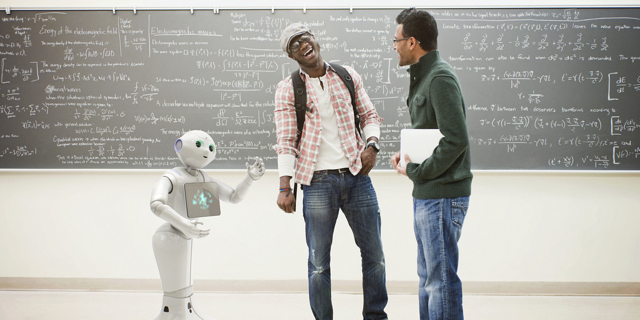 Under Armour says it will start using Watson in its Record app, which helps people record their activity from different wearables. Watson will be able to compare the user's activity with similar anonymous users to make recommendations and observations about the user's activity habits.
In the future, Watson will be able to compare activity with an even larger pool of fitness data that IBM is currently gathering. The plan is to make Watson into a personal trainer called the Cognitive Coaching System.
IBM is also grooming Watson to be a sales associate. The company is working with SoftBank to develop a robot that will be able to interpret many different types of media and interact with customers. The Pepper robot is already in action in some Nestle stores and Japanese banks. So far, the product has been a hit and selling out, according to TechCrunch.
Watson is loaded onto Pepper through an SDK so that developers can modify how the AI works, making its technology easier to translate to more consumer products in the future.
Topics:
Activity Tracker
,
AI
,
App
,
Artificial Intelligence
,
Banking
,
CES 2016
,
Cognitive Business Solutions
,
CTA
,
Enterprise
,
Finance
,
Fitness
,
Health
,
Hotels
,
IBM
,
Internet of Things
,
IoT
,
Japan
,
Jeopardy!
,
Medical
,
Nestle
,
Pepper
,
Personal Trainer
,
Record App
,
Retail
,
Retail Stores
,
Robotics
,
SoftBank
,
Under Armour
,
Watson
,
Wearables