ETC's George Gerba and Don Levy spent Wednesday perusing the CES 2022 Eureka Park startup zone looking for new companies and unique products that would be of particular interest to the entertainment industry. Among this year's most compelling concepts were an AI-assisted content creation tool, COVID-compliant tech ideal for workspaces and productions, AI-based audio tech, a response tracking system for dynamic displays, emerging NFT approaches for artists, new tech investing models, light-based networking solutions, paper-based biofuel cells and haptic wearables.
Below are short descriptions of booths that stood out to ETC. They will be included in the post-CES roadshow presentation and report that ETC will produce.
Audio Design Desk is an AI-assisted content creation tool that reinvents the process of connecting audio to video. It is particularly good with sound design, foley-like sound effects and music.
ADD is intelligent, so it's aware of the types of sounds and music you import, use in your projects, and will even make qualified and informed recommendations to help keep your projects evolving in all the right ways. For example, temporary music queues can easily be replaced with final music, since it intelligently replaces sounds without losing sync.
Used on productions seen on Netflix, Amazon and HBO Max, ADD's AI technology allows editors to seamlessly add sound effects to videos by choosing from a library of more than 30,000 royalty-free sounds. Like a Spotify for sound effects, it suggests new sounds based on past preferences.
Soapy is of interest because it supports COVID compliance in a friendly, gamified and verifiable manner. The personal hand washing station will help any production set remain COVID-compliant in an environmentally friendly and socially responsible manner.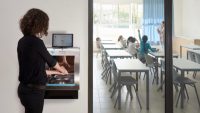 From touch-free water and soap triggering, perfect wash tutorials that gamify handwashing, and WHO approved timing cues, Soapy ensures that the most effective wash is achievable every time. Powered by AI and connect to the IoT, its semi-biometric recognition process tracks personal performance and body temperature while protecting each individual's privacy.
Soapy provides the monitoring, alerts and reporting that guarantee 100 percent assurance and compliance. As a bonus, Soapy donates one unit to a disadvantaged community for every ten units sold. The models start at $3,495, with soap refills starting at $89 per bottle.
Supertone is an AI-based audio tech startup. The company is researching and developing technologies that seamlessly convert voices, create new unique voices, capture a singer's tone and rich expression, and separate any voice from unwanted background noise.
ETC was shown a project currently in development where they capture the emotional tonality, timber, intonation, and other qualities of an actor's dialog in the original language, and then apply those qualities to the dialog from a dubbing actor in another language. This could be applicable to anyone creating multilanguage versions of content.
ADDD offers a portable, AI-driven audience facial, body-language, and emotional response tracking system for dynamic displays intended for rolling vehicles, pop-up marketing events and special temporary venues. The system recognizes, tracks, skeletonizes and analyzes each person's response as they look at the screen, and can adjust the content in response to the reactions.
A number of companies offer audience detection and dynamic real-time modification of the marketing message or programming for permanent installations. Portability is ADDD's unique value proposition.
Echo Labs is another example of how artists are jumping into the NFT space. Jerrod Maruyama, who has designed a great deal of Disney merchandise has partnered with Echo Labs to develop Little Corgi Cuties.
Although no plans for Maruyama's work have been announced yet, another artist, Josh Agle (better known as Shag), has already released Qitty Qats NFTs in partnership with Echo Labs and posted a product road map. When you buy a Qitty Qats NFT they will mail you a 5x 5-inch paper print of it. For a fee you can upgrade to a larger signed paper print or one printed on canvas.
The website will also offer scheduled meetings with the artist on Discord, Qitty portraits of fans, merchandise, giveaways and parties; all for additional fees.
Kryptulip may be an alternative funding path for startups. From the website: "Kryptulip is an investment platform that connects inventors and new technology enthusiasts. It associates NFTs (non-fungible tokens) with IP assets. Inventors design the rewards they will offer in exchange for the purchase of NFTs by investors. Investors can thus contribute to the emergence and development of new technologies that are important to them, and profit from attractive returns on investment."
Unlink VR is a laser light-based networking solution for free roaming location-based entertainment and other large-space situations. Unlink's light sensors fit any VR headset. Laser light transmitters and reflectors are placed throughout the room. If the light from one sensor is blocked, the sensor immediately switches to any other visible transmitter or reflector. The system can deliver an uncompressed 4K signal 40X faster than Wi-Fi.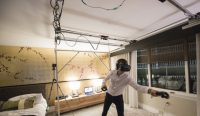 The product is still in development, but you can sign-up for notifications when they start accepting pre-orders.
BeFC, or bioenzymatic fuel cell, is a thin, lightweight, flexible paper-based biofuel cell that is biodegradable, environmentally friendly and economically viable. The company is also developing flexible electronic platforms that combine a range of sensor technologies with wireless communication for data readout that are optimized to partner perfectly with BeFC fuel cell tech.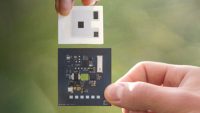 They expect the BeFC battery to come to market in early 2023. With 97 percent of batteries ending up in landfill or being incinerated, BeFC biofuel cells are a biodegradable organic energy source that can help protect the environment.
OWO looks like a tight-fitting short sleeve zipper-top, but can wirelessly deliver haptic sensations to 10 locations (including abs, pecs and arms) for up to eight hours on a single charge. Algorithms vary nine parameters to create 30 distinct sensations, including wind, insect crawl and bite, light and severe abdominal wound, lift or push objects, shot with exit wound, machine gun recoil, and more.
The OWO works natively or semi-natively with a suite of games such as "Fortnite," "League of Legends" and "Rocket League." The top is available in six sizes.
For more on CES 2022:
CES Hashtag — #CES2022
CES Twitter Handle — @CES
CES Facebook Page — facebook.com/CES
Topics:
ADDD
,
Amazon
,
Artificial Intelligence
,
Audio
,
Audio Design Desk
,
BeFC
,
Biofuel Cells
,
CES 2022
,
COVID-19
,
CTA
,
Display
,
Don Levy
,
Echo Labs
,
ETC@USC
,
Eureka Park
,
George Gerba
,
Haptic Feedback
,
HBO Max
,
IoT
,
Jerrod Maruyama
,
Kryptulip
,
LBE
,
Music
,
Netflix
,
NFT
,
OWO
,
Shag
,
Soapy
,
Startup
,
Supertone
,
Unlink VR
,
Video
,
Wearable
,
WHO