Pioneering tech journalist Robin Raskin brought together six companies that have created innovative digital health products due to the increased use of data and connectivity. "Connectivity is a predictor of health," said Raskin. "The more connected we are, the healthier we will be. Next, we need to get this technology out there as inexpensively and widely as possible." Deloitte's national consulting leader for life sciences and health care practices Dr. Lynne Sterrett outlined five macro trends: interoperable data, equitable care, owning our own data, the use of data to inform behavior change, and science as the winner during the pandemic.
"Interoperable data is the only way we'll cut to the future of the health narrative," she said. The second macro trend is equitable care, made crystal clear by the COVID-19 pandemic. "This is how we're going to have affordable care for all," she said.
"ESG (environmental, social and governance) studies show we could save $144 billion if we eliminate racial bias embedded in across the ecosystems." The empowered consumer who owns his or her data is the third macro trend. Fourth is the use of data to inform behavior change. "That opens the potential of going from sick care to well care," she explained. Finally, she said, "science was the winner of the year."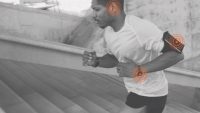 Valencell president and co-founder Dr. Steven LeBoeuf talked about how his company's sensors in the biometric space have evolved. "We see a convergence of consumer wearables and medical devices," he said. "We've crossed the chasm of more people being willing to deal with the regulatory aspect." Valencell is focused on "solving the hypertension problem in the U.S." and is in discussions with the FDA on a wearable that measures blood pressure accurately.
Vivoo co-founder and chief executive Miray Tayfun described her company's free app as "an Apple Watch for pee," that provides the "deep insight of a lab test" on users' levels of vitamins and minerals. The app combines imagine processing, machine learning and AI to detect color changes on the urine test parameter and a database of thousands of pictures.
Dassault senior director, business strategy, life science industry John McCarthy talked about how his company's Virtual Twin, a scientifically accurate 3D model, can be used for clinical trials and personalized medicine among other use cases. McCarthy said using a Virtual Twin to understand complex problems and solve them included a pharmaceutical plant that resolved a supply chain issue and Eli Lilly that was able to increase manufacturing of their insulin pens.
SleepScore Labs chief executive Colin Lawlor said his company's mission is to "improve sleep at scale using technology." He noted that CDC data shows seven out of 10 people die from a chronic disease, many of them treatable. "We believe sleep is a fundamental part at that," he said. The company is partnering with ResMed, Mattress Firm and International Flavors & Fragrances among others. "We're using science and data to learn what sleep interventions deliver what results to different people."
Dr. Beth McQuiston is the medical director of Abbott's diagnostic business. A neurologist, she said the company has developed a blood test that measures brain proteins to determine if someone has had a concussion. The portable handheld device was developed in partnership with the Department of Defense and is now in use throughout the world.
For more on CES 2022:
CES Hashtag — #CES2022
CES Twitter Handle — @CES
CES Facebook Page — facebook.com/CES