MIT Media Lab spin-off Brelyon, founded in 2018, is demonstrating its Ultra Reality screen technology this week at CES 2022. The display tech uses computational optics to essentially offer a curved 120-inch 3D "theater-like experience" via a 32-inch desktop monitor, which the company suggests is ideal for entertainment, gaming and enterprise applications "beyond screens, into the metaverse." The concept relies on realistic depth effects and image composition techniques to provide users with a plug-and-play, high-fidelity, virtual experience that does not rely on VR headsets.
"Combining the latest technical advances in novel physics and computational optics with the company's patented superconic light-field expansion technologies," explains Brelyon co-founder and CEO Dr. Barmak Heshmat, "Ultra Reality offers a massive 120-inch plus curved display that provides panoramic, cinema-scale virtual images with meters of true optical depth that pans across both eyes, all in a small desktop footprint."
According to Digital Trends, "it feels like sitting in front of a huge VR headset designed for a giant, but rather than wearing it, you're peering into the display from a short distance away. The concave screen fills your field of vision much like a large, curved gaming monitor might, but doesn't block out the outside world entirely as most VR headsets do."
While it may be "tempting to call it a hybrid of a monitor and a wearable VR device," notes DT, "it's really less of a mixture of those two things and more so a strange new category that lies indistinctly somewhere between them."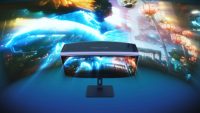 For creating content, Brelyon recommends "360 videos and ultra-wide videos and games. To create content on YouTube, simply use #UR360 or #URwide to join our community of content creators." While users can watch any movies or play any video games, "the panoramic view of the device favors videos that are shot in a wide-angle lens and are in higher resolution."
"Most current 3D displays simulate depth using bulky stereoscopic headsets or glasses that trick your eyes into believing they see a 3D image," said Heshmat. "Brelyon has invented a new kind of optical technology for Ultra Reality that solves the problem of monocular depth, ushering in a new era of Holodeck-like immersive 2D and 3D displays that are set to replace the traditional desktop monitor."
During CES, Brelyon has been demonstrating its product line and discussing new collaborations across areas such as e-sports, gaming, industrial and finance. In addition, Brelyon announced it will use LG Display's P-OLED tech in its next-gen immersive monitors.
Exact pricing has yet to be announced, although Heshmat suggested the current tech currently runs $5,000 per monitor, which could come down in price if the concept takes off. Pre-order information "for strategic customers who represent scalable opportunities" is available online.
Brelyon is demonstrating Ultra Reality at the Venetian Expo (#61726) during CES. To schedule a virtual tour after the show, contact info@brelyon.com.
Related Videos:
Worlds First Virtual Gaming Monitor Is Here, Brelyon, 1/4/22
Gamers React to Brelyon's New Ultra Reality Display, Brelyon, 12/21
The First No-Headset Virtual Monitor, TEDx Talks, 6/22/20