The U.S. "must reinvent the machinery of government itself, just as much as any piece of transportation equipment," U.S. Secretary of Transportation Pete Buttigieg said Thursday in his CES speech on the Future of Transportation. "Innovation isn't about the technologies themselves, but how we deliver transportation resources cost-effectively and quickly," Buttigieg said, sharing his vision for an Advanced Research Projects Agency for Infrastructure, "ARPA-I, modeled after DARPA" (the Defense Department ARPA that invented the Internet) as required in an era in which mobile connectivity and transportation are becoming inextricably intertwined.
Buttigieg, whose prerecorded remarks were presented during a Qualcomm session, preceding a live Q&A with the company's CEO Cristiano Amon (below), banged the drum hard for President Biden's $1.2 trillion Infrastructure Investment and Jobs Act, which allocates $65 billion to communications. "This is a chance to scale up our R&D efforts to keep pace with innovation and help to drive it" in ways that help America maintain technological supremacy, he suggested.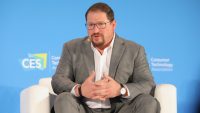 While innovation "has become a buzzword," Buttigieg's speech — framed within a context that ranged from the invention of the wheel to interorbital air travel — was laser-focused on successful outcomes. Pavement "may not sound as sexy as commercial space travel" but can perhaps "do more for Americans in this lifetime" than more provocative developments, Buttigieg said, mentioning road surfaces that are self-healing, recycling carbon dioxide, or collecting solar power for nearby EV chargers (this last, he says, is already deployed in Georgia).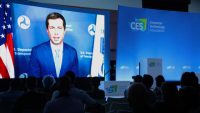 Buttigieg (above) couched as a historic first an outline for six "guiding principles" for innovation:
Innovation is not an end in itself; it is a chance to improve everyday life, and should always serve key public policy priorities, like creating economic opportunity, advancing equitable access and helping to confront the climate crisis.
Innovation should be shaped in ways that help America win the 21st century.
Innovation strategies should support workers, knowing our choices help to define and decide whether any given technological development meets its potential to create economic benefits for everyone.
Good innovation strategy allows for experimentation and learnings from setbacks, an important part of the discovery process.
Collaboration between the public sector, private sector and academic sector, all of which have distinct but related roles.
Our policies should be flexible and ready to adapt as technology changes.
Buttigieg conceded that entries 4 and 6 "may seem obvious in the tech world, but in the world of government this requires a lot of work and adaptability amid a culture that, often for good reason, is deeply risk adverse." Hewing to them "will require a great deal of imagination as we set up our policy and legal frameworks for the years to come."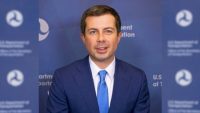 Stressing the balance that can provide a foundation for brilliance when government and the private sector synchronize efforts, the Secretary summarized government's role is "to provide the guardrails" that ensure innovation is "safe, equitable and clean."
Earlier in the day, Buttigieg did a lengthy interview with The Verge, talking about Tesla (a topic his boss, President Biden, has been careful not to mention) and elaborating on the six innovation principles.
For more on CES 2022:
CES Hashtag — #CES2022
CES Twitter Handle — @CES
CES Facebook Page — facebook.com/CES