A CES 2022 session on "Decoding Crypto," moderated by Transform Group founder and chief executive officer Michael Terpin, touched on the growth and evolution of cryptocurrency as well as regulatory issues and recent developments. Terpin enthused over the sector's dramatic growth, while panelists Blockchain Association founding executive director Kristin Smith, Celsius Network chief growth and product officer Tushar Nadkarni and Filecoin Foundation founding director Clara Tsao had their own yardsticks to analyze crypto's evolution.
For Smith, it's the growth of the Blockchain Association from 10 relatively small companies three-and-a-half years ago to 70 companies — among them 15 unicorns — today. "But a more important proxy for growth is the interest we are getting from members of Congress," she said. Whereas it used to be hard to get anyone on Capitol Hill to listen, now, she said, lawmakers' interest is keen.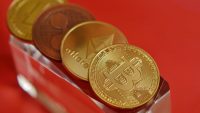 At Celsius, which describes itself as "a platform of curated services that have been abandoned by big banks — things like fair interest, zero fees and lighting quick transactions," Nadkarni explained that users earn interest on their cryptocurrency and can also take out very low-cost loans. "We are at 1.5 million users of the platform," he said.
Tsao's Filecoin Foundation aims to build an open source, decentralized storage network "designed to preserve humanity's most important information." "We create programmable money that is more decentralized," she said, referring to Decentralized Finance (DeFi), which has overtaken Centralized Finance (CeFi) introduced in 2017.
She noted that storage is currently controlled by a small number of very big companies. "We are working on adoption in the NFT space," she said, "And we have over 15 million NFTs in our storage space." The global community of Filecoin storage providers has dedicated over 10 exibytes (EiB) of decentralized storage capacity — the equivalent of 2.5 billion gigabytes.
Traditional financial institutions are split in how they are responding to cryptocurrency, said Nadkarni. "Some understand the trend that's coming and are evolving their businesses," he said. "Others are actively trying to create friction."
Smith stated that, "the financial services industry now revolves around an intermediary that can be regulated." "The act of decentralized exchange in the securities world is very regulated," she said. "What regulators have a hard time understanding is if they have customers or customer information." The challenge, now, she said, is that the risks in DeFi are different.
"It requires fresh thinking and developments in identity on blockchain that allow for appropriate info to be shared that doesn't reveal everything," she noted. "But there is a lot of innovation around that space that will eventually settle out."
Tsao said she is seeing many chief executive officers moving into the metaverse. "A lot of people today are using NFTs in the gaming space and creating virtual worlds," she explained. "We're just seeing this space explode. Web 3.0 promises to share the wealth with a much broader group." "There are so many hard questions going forward," she added. "It's a perfect time to become an expert. Everyone is learning every day. There are no dumb questions."
For more on CES 2022:
CES Hashtag — #CES2022
CES Twitter Handle — @CES
CES Facebook Page — facebook.com/CES
Topics:
Blockchain
,
Blockchain Association
,
CeFi
,
Celsius
,
CES 2022
,
Clara Tsao
,
Congress
,
Cryptocurrency
,
CTA
,
DeFi
,
Filecoin Foundation
,
Financial Institution
,
Gaming
,
Kristin Smith
,
Metaverse
,
Michael Terpin
,
NFT
,
Open Source
,
Regulator
,
Transform Group
,
Tushar Nadkami
,
Tushar Nadkarni
,
Virtual World
,
Web 3.0