During CES in Las Vegas last week, Quibi founder Jeffrey Katzenberg and chief executive Meg Whitman revealed more details about their streaming content venture fueled by $1.4 billion in venture capital funding. A portmanteau for "quick bites," Quibi plans to offer short content — under 10-minutes — for mobile phones. In other words, the enterprise is entering the streaming wars, looking for a sweet spot between the heavy-hitter long-form providers like Netflix and HBO and the free, varied content of YouTube and TikTok.
The Verge notes that Quibi has inked original series deals with Zac Efron, Idris Elba, Kristen Bell, Chrissy Teigen, Kendall Jenner, Tyra Banks, Steph Curry, 50 Cent, and Avengers: Endgame directors Anthony and Joe Russo. Vox Media, which owns The Verge, is producing a Polygon Daily Essential show as well.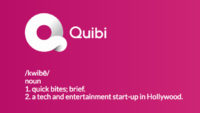 MarketWatch reports that, in a crowded streaming market, Quibi has "only a few months to make its case in shark-infested waters that consumers should sign up before it goes live" April 6 in the U.S. and Canada. Whitman noted that Quibi is "building a platform for creators to take full advantage of content on phones," with 8,500 episodes planned for the first year and three hours of fresh content daily.
Directors Steven Spielberg, Guillermo del Toro and Steven Soderbergh are also on board to produce content as are Reese Witherspoon, Bill Murray, and BBC, ESPN, and NBC News. "We provide content for people on the go," said Whitman.
Wired explains that Quibi will cost $4.99 per month with ads or $7.99 without. T-Mobile has already stated it will bundle subscriptions to customers but didn't mention numbers. Katzenberg said that Quibi is debuting "the next turn of the evolution of story structure … [based on] the secret, irreducible unit [of] the act." "And the first act break is always at eight-and-a-half minutes," said Whitman. The content will either be series or anthologies.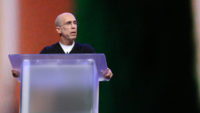 "What Quibi is doing is taking these two proven sciences and actually converging them together for our 'lighthouses' in which we're telling a two-hour story in chapters that are seven to 10 minutes long," said Katzenberg (above, photo courtesy of CTA). Those lighthouses are 35 "high-gloss narrative shows" in the first year, "along with 115 'alternative' shows and daily 'quick bites'."
NBC News is building a "whole new newsroom for Quibi shows — two every weekday, one a day on weekends." "Don't Look Deeper" will have 14 episodes, totaling just under two hours, made for about $10 million. The stories will be "nonlinear" and "fun" and will feature a lot of experimental techniques.
Content creators get the cost of production plus 20 percent; Quibi licenses the content for seven years but the creators own their intellectual property in perpetuity. Quibi's research found that, in 2012, "people watched an average of six minutes of video a day on their phones," rising to 60 minutes in 2018 and 75 minutes in 2019. None of it, said Katzenberg and Whitman, was premium and short form.
Topics:
50 Cent
,
Anthony Russo
,
BBC
,
Bill Murray
,
CES 2020
,
Chrissy Teigen
,
CTA
,
ESPN
,
Guillermo del Toro
,
HBO
,
Idris Elba
,
Jeffrey Katzenberg
,
Joe Russo
,
Kendall Jenner
,
Kristen Bell
,
Meg Whitman
,
NBC News
,
Netflix
,
Quibi
,
Reese Witherspoon
,
Steph Curry
,
Steven Soderbergh
,
Steven Spielberg
,
T-Mobile
,
TikTok
,
Tyra Banks
,
Video
,
Vox Media
,
YouTube
,
Zac Efron