Polaroid has unveiled its portable Zip device, a 6.6-ounce photo printer, less than one-inch thick, that creates 2×3-inch prints using the company's ZINK zero-ink technology and adhesive-backed ZINK paper. The pocket-sized device enables users to print photos from Bluetooth-enabled smartphones and tablets. The Zip includes a free mobile app available for iOS and Android, and an array of editing options such as adding filters, frames, stamps and stickers. Users can even make business cards. The Zip is expected to ship this spring for about $130.
"The Zip uses Polaroid's ZINK zero-ink printing technology, which uses special ZINK paper embedded with cyan, yellow and magenta dye crystals," reports CNET. "The crystals start off colorless, but as the print is being made, heat activates the crystals changing them to the appropriate colors. The rechargeable battery is good for up to 25 prints."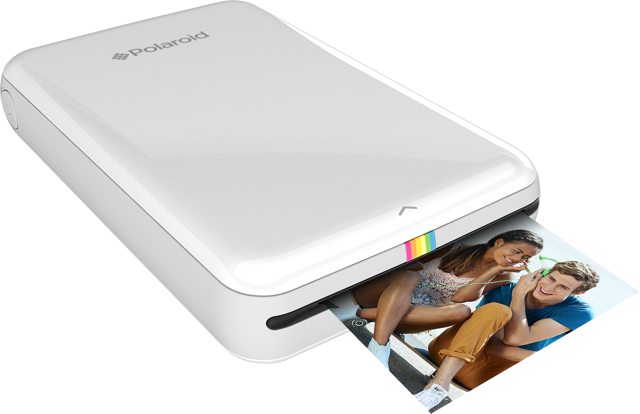 "Our smartphones are always with us and have become an important device consumer's reach for to capture life's most memorable moments," said Scott W. Hardy, president and CEO of Polaroid. "Some photos are uploaded to social networks and shared with others digitally; however, there will always be a need to share and show actual 'physical' photos. The new Polaroid Zip mobile printer doesn't just streamline and simplify the process it makes it as much fun as sharing an image online."
The press release lists the following filters, effects and controls:
Enhancements to brightness, contrast, saturation and tint as well as 12 color filters including sepia, retro and HDR.
A collage mode that allows users to feature up to 9 images on one single print.
The ability to draw in various colors using the paint mode as well as the use of frames, stickers, stamps, emoji and animations to make the image stand out.
A unique business card creator allows users to choose from several templates and add in their image and personal info.
The option to make edits private and only viewable using the app's secret view mode. Secret view will print the original photo with an individual QR code that, when scanned, will reveal the final image complete with add-ons and creative effects.
Polaroid is also showing its retro-inspired Socialmatic instant digital camera and new line of 1080p automobile dashcams. CES attendees can visit Central Hall, booth #13614 for a first-hand look.
Topics:
1080p
,
2015 CES
,
Android
,
App
,
Automotive
,
Battery
,
Bluetooth
,
Business Cards
,
Camera
,
CEA
,
Collage
,
Consumer Electronics Show
,
Dashcam
,
Emoji
,
HDR
,
iOS
,
Las Vegas
,
Mobile
,
NFC
,
Photos
,
Polaroid
,
Polaroid Zip
,
Printer
,
QR Code
,
Scott Hardy
,
Sharing
,
Smartphones
,
Social Media
,
Socialmatic
,
Tablets
,
Templates
,
ZINK