During this week's CES 2021, Deloitte Consulting principal Dan Littman led an inquiry into how the 5G rollout fared in 2020, with AT&T Business chief executive Anne Chow and Qualcomm Technologies senior vice president of engineering Alejandro Holcman. "5G is a new-generation wireless technology filled with complexity of technology, ecosystems and government requirements," said Littman. "And 2020 made everything a little more challenging." He asked Chow and Holcman to describe how 5G has been challenged and/or accelerated during the year.
Chow pointed out that, "the importance and power connectivity was amplified this year, in terms of the tectonic shift to remote work and learning." "Throughout 2020, we remained committed to our 5G deployment," she said. "For the last two years, we've been working with enterprises across the country on use cases and innovations as we anticipated the rollout. I feel we sit in a stronger place today."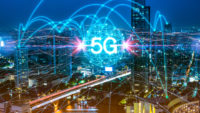 Holcman said his company has also seen "an acceleration across the board." "In terms of deliverables to OEMs, we have now, in addition to AT&T, more than 100+ operators worldwide that have commercially deployed 5G," he said. "There are hundreds of OEMs with 5G products and shipments of millions of 5G devices, with no signs of slowing down."
Littman noted that, "we're still in the early stages of 5G." That means that currently there is a lot of non-standalone 5G that relies on 4G," he said. "In 2021, you'll see lots more deployment of standalone networks, which offer lots more capabilities and services." Chow noted that everyone is still "in the early phases in terms of really understanding what the power of 5G will enable."
"Some of our early adopters tend to be in industrial environments, where they are focused on their business transformation," she said, noting that many digital transformations in 2020 "accelerated by five to 10 years — and 5G plays a material role in this." Littman revealed a Deloitte report stating that, in the U.S., "we'll have 40 to 160 devices per capita by 2030." "We're at four or five connected devices per person today," he said.
Holcman reported that Qualcomm is currently in its third generation 5G platform, following the first 5G modem (X50) that made it a commercial reality for first-generation phones. The X55, which integrated with the Snapdragon 865, added capabilities. "I'm most excited about the X60 and the Snapdragon 888," he said. "That is really transformative with camera, AI, GPU and, very critically, low power," which enables devices that require low power consumption.
Another key feature will be that the latest generation of 5G devices will be able to use any 5G band available and aggregate what's available in low-band, mid-band and high-frequency bandwidths. "The availability of spectrum means the modem has to be able to combine these bandwidths," he said.
Click here for more information on the speakers, panels and new products at CES 2021 (#CES2021).