More than 300 conference sessions and 1,100 speakers across 22 different tracks offer first-person insight into the universe of topics to be featured at CES 2020 this week in Las Vegas. As the world's largest showcase of tech innovation, CES gathers leaders and experts to share the latest developments in products and policies. This year's lineup of SuperSessions captures the zeitgeist of the market as it advances from an imagined future to real issues, opportunities and challenges. ETC will report on many of the sessions most relevant to media and entertainment.
Federal Trade Commission chairman Joseph Simons and Federal Communications Commission chairman Ajit Pai (below) kick-off the SuperSession series on Tuesday morning in a Fireside Chat with CTA's Gary Shapiro.
(Tuesday, January 7, 11:30 AM, Las Vegas Convention Center, North Hall, Room 257)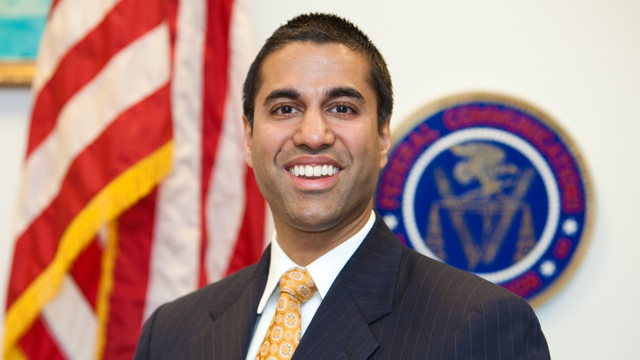 With new laws and regulations enacted along with unprecedented attention globally on privacy concerns, the Chief Privacy Officer Roundtable SuperSession on Tuesday afternoon brings executives from Facebook, Procter & Gamble and Apple, along with a FTC commissioner for what promises to be an important exchange.
(Tuesday, January 7, 1:00 PM, Las Vegas Convention Center, North Hall, Room 257)
CNET, Google, CBS Interactive and the Electronic Frontier Foundation are among the panelists who will look at "IoT: Moving Into An Anticipatory Tech World." The topic is is not the technology anticipated, but how we are moving into a world where the technology anticipates needs and interests. As the session description reads on the CES site, "Beyond touch, voice and search is a world where things just happen, the era of anticipation … see how the future will be less work and more magic."
(Tuesday, January 7, 3:00 PM, Las Vegas Convention Center, North Hall, Room 257)
Qualcomm president Cristiano Amon will discuss 5G on Wednesday morning. "Marketplace Tech" host and senior editor Molly Wood will explore the project impact of 5G and want can be expected as 5G networks go mainstream.
(Wednesday, January 8, 10:30 AM, Las Vegas Convention Center, North Hall, Room 257)
Siemens USA CEO Barbara Humpton will be interviewed by Wall Street Journal columnist John Stoll Wednesday for a provocative discussion about the rise of the digital industry and smart infrastructure. The session titled, "What's Next for the Fourth Industrial Revolution" is expected to look especially at the challenge and opportunity for technology companies and how to use software and data to build more sustainable, resilient communities.
(Wednesday, January 8, 2:00 PM, Las Vegas Convention Center, North Hall, Room 257)
Heavyweights including IBM, Mercedes-Benz, Daimler AG and ExxonMobil will be represented in full force at the "Enter the Quantum Decade" on Wednesday. The CES site states, "In this session, major industry innovators will explain why many believe quantum is the next big thing in technology and how it is about to unlock tremendous value — including new drugs and materials, batteries that are 1000x better, efficient supply chains and new transportation systems."
(Wednesday, January 8, 3:00 PM, Las Vegas Convention Center, North Hall, Room 257)
Beyond these high-profile SuperSessions, starting Monday the Aria Hotel conference center (otherwise known as Tech South) will be the place for media, marketing and entertainment with Digital Hollywood, Entertainment Summit, Marketing Reinvented, CMO Insights, Gaming and eSports, C Space Storytellers, The Future of TV is Now, Sports Technology, Smart Future, and VOICE: Brands Leveraging Voice Technology conference tracks all convening their sessions at this venue.
More conference sessions are also situated at the Sands/Venetian (Tech West) and the Las Vegas Convention Center (Tech East) covering topics such as 5G, robotics, artificial intelligence, IoT, cybersecurity, blockchain, immersive entertainment, smart home, travel and tourism, health, home and family.
Visit the CES site for a complete breakout of all the conference sessions. CES live streams some sessions and records others for later posting. And watch for ETC's reporting this week; we'll be publishing news from CES conference sessions, whisper suites and the show floor throughout each day and distributing our ETCentric email alert twice per day.
Topics:
5G
,
Ajit Pai
,
Apple
,
Artificial Intelligence
,
Barbara Humpton
,
Blockchain
,
CBS Interactive
,
CES 2020
,
CNET
,
Cristiano Amon
,
Daimler AG
,
EFF
,
ExxonMobil
,
Facebook
,
FCC
,
FTC
,
Gary Shapiro
,
Google
,
IBM
,
IoT
,
John Stoll
,
Joseph Simons
,
Mercedes-Benz
,
Molly Wood
,
Privacy
,
Procter & Gamble
,
Qualcomm
,
Quantum
,
Robotics
,
Security
,
Siemens USA
,
Smart Home
,
The Wall Street Journal
,
Tourism