CES Unveiled is the first chance for press and industry analysts to get a look at some of the exhibitors that will be on the CES 2020 show floor when it opens on Tuesday, January 7. Approximately 240 companies demonstrated their products related to smart homes, digital health, gaming and all manner of innovation. At the end of the session of CES 2020 trends, CTA vice president Steve Koenig noted that products aimed at sustainability will also make an impact at the show, particularly at Eureka Park, home to startups.
Koenig highlighted one Dutch company showcasing sustainability innovations: Hydraloop — also a 2020 Innovation Award honoree — which showed "compact, next generation, smart, self cleaning, low maintenance water recycle products" for in-home use.
Another Innovation Award honoree is NextMind, a French company that showed off a brain-sensing wearable for real-time device control, mainly aimed at gaming. Founder/chief executive Sid Kouider noted that the headset — which looks like a lightweight thin band worn around the head — works immediately, although a user can also fine-tune and quicken its response over time via training.
Among the digital healthcare products, my attention was caught by another French company, URGOTech, that takes the bulky expensive biofeedback (URGO calls it neuro-feedback) gear out of the doctor's office and into the home. If you are one of the many stressed out people who find it hard to go to sleep or stay asleep, the company's URGOnight promises to train your brain to be able to produce the brainwaves associated with deep, refreshing sleep.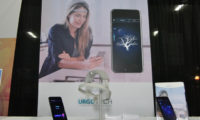 The lightweight, adjustable headset is comprised of four dry electrodes to measure brain activity and an iPhone/Android app that helps the user train his or her brainwaves. The device is currently undergoing clinical trials and will be available for sale in June.
There were plenty of products aimed at aging baby boomers. Two that I ran across included Olive Union's Smart Ear hearing aids with upgradeable software, customized sound settings via the smartphone app, seven hours of listening time on a charge and a considerably less expensive price tag than traditional hearing aids.
Neofect is a specialized digital medical solutions company targeted at rehab from strokes. It currently offers Smart Glove, a 2017 CES Innovation Award honoree, that provides fine motor skill rehabilitation in clinics or at home. Another stroke rehabilitation product the company showed was a smart balancing tool, currently only for use in the clinic setting.
Japanese company mui offers simple wooden boards embedded with computers, that allows simple touchscreen communication via LED lights that are visible on the wooden plank. Co-founder Kaz Oki dubs it "Calm Technology." "Private spaces should be a relief from constant connectivity … mui acts as a bridge between your focus and the outside world," the company says. "[It] asks for limited attention to give you control and the information you need."
In other words … go calmly into the often overwhelming intensity that is CES.
Topics:
Android
,
App
,
Biofeedback
,
CES 2020
,
CES Unveiled
,
CTA
,
Digital Health
,
Eureka Park
,
France
,
Gaming
,
Headsets
,
Hydraloop
,
iOS
,
iPhone
,
Japan
,
Kaz Oki
,
Mui Lab
,
Neofect
,
NextMind
,
Olive Union
,
Rehabilitation
,
Sid Kouider
,
Smart Ear
,
Smart Glove
,
Smart Home
,
Steve Koenig
,
Sustainability
,
Touchscreen
,
URGOnight