CBS viewers now have the option for watching new shows on their smartphones and tablets. The network announced that it will make all new episodes of its fall primetime line-up available via its mobile app just eight days after the programs air on TV. In response to app users who expressed concerns regarding limited content, CBS will be offering new and returning primetime titles, in addition to some classic shows. The app will also be available for Android and Windows 8.
When CBS launched its iOS app earlier this year, it made full episodes of some primetime shows available eight days after they aired, but viewers complained that only a limited selection of episodes were made available.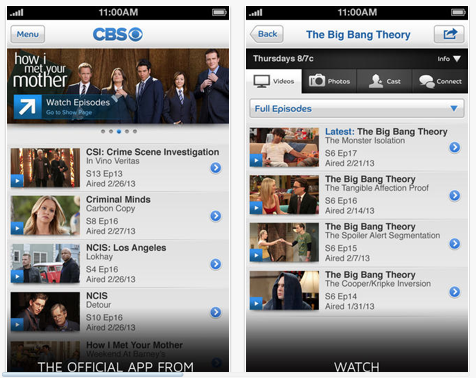 "Now CBS, which says the iOS app has been downloaded nearly four million times, claims it is going to fix that," reports GigaOM. "On Friday, the network announced its app is now available for Android and Windows 8, and also said that starting immediately, the app will offer 'every episode of CBS's new and returning primetime entertainment series eight days after broadcast.'"
The app also plans to make available episodes of classic CBS programs such as "Macgyver," "Star Trek" and "Perry Mason."
"Eight days may seem like a long time to wait, but CBS's new policy does mark a fairly major expansion of full episodes available through the app," notes GigaOM. "And you don't need a cable subscription to log in."
"CBS Connect second screen experiences for shows like 'CSI' and 'Hawaii Five-O' have been integrated into the iOS app, a feature that should be making its way over to Android later this fall," adds The Verge.
Topics:
Air Date
,
Android
,
App
,
App Store
,
Broadcast
,
Cable
,
CBS
,
Classic
,
Distribution
,
Episode
,
iOS
,
Macgyver
,
Mobile
,
Network
,
Perry Mason
,
Phone
,
Pilot
,
Primetime
,
Program
,
Second Screen
,
Series
,
Show
,
Smartphone
,
Star Trek
,
Stream
,
Streaming
,
Subscribe
,
Subscription
,
Tablet
,
Television
,
TV
,
Video
,
VOD
,
Windows
,
Windows 8