"Cars 3" became the first Pixar film to be distributed in the 4DX motion-based "immersive" film format from CJ 4DPlex, one of several formats that give the moviegoer a physical experience, as seats shake, tilt and pivot and the theater emits scents, sprays of water, fog and strobe-lighting, all relevant to what's on the screen. These experiential formats have focused mainly on superhero and action movies, although 4DX films were released for "Despicable Me" in 2010, as well as "The Jungle Book" and "Kung Fu Panda 3."
Bryan Bishop of The Verge reports that the "Cars 3" release can be seen as "an inflection point," because it involves "one of the most prestigious modern animated film studios, winner of 16 Academy Awards." By offering an experience that is arguably more theme park than cinematic, writes Bishop, it's clear the film industry is trying to lure audiences to theaters by offering more than they can get from their living room TV or any of the other many entertainment options.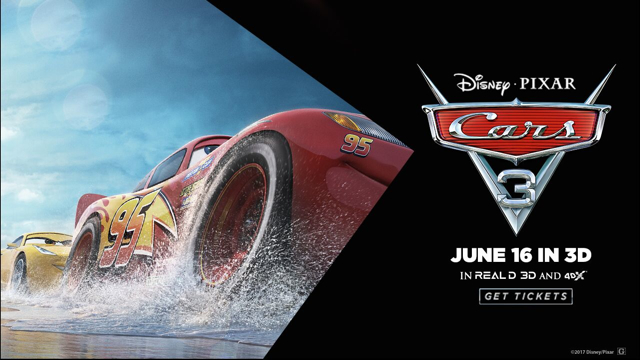 The theme park experience also justifies rising movie theater ticket prices. 4DX now has 380 screens in 48 different countries. There are nine screens in the U.S., via a partnership with Regal Cinemas. "We're a household name in places like Korea, China, and in Latin American countries," said 4DX creative director Catherine Yi. "Because the U.S. is so much bigger, we're still working on becoming a household name here."
Yi describes the process of creating the effects as using one editor for motion and another for environmental effects. Although the two editors communicate with one another, "there's no hard-and-fast rule about perspective or continuity that the company abides by in crafting its experiences."
The company reports that 4DX theaters showing "Wonder Woman" earned more than three times the box office revenue as screens without it, in the same location, and "Pirates of the Caribbean: Dead Men Tell No Tales" is doing even better.
But, warns Bishop, if filmmakers aren't careful, "new formats could undermine the most important reason to go to the movies of all." The elements of the moving seat and the environmental effects can be "discordant," writes Bishop, who complained about getting a "quick, uncomfortable jab in his back" when a character on screen fell from a horse.
Topics:
4D Motion Ride
,
4DPlex
,
4DX
,
Academy Award
,
Animation
,
Box Office Revenue
,
Cars 3
,
Catherine Yi
,
China
,
Cinema
,
CJ 4DPlex
,
Despicable Me
,
Disney
,
Environmental Effects
,
Exhibition
,
Hollywood
,
Korea
,
Kung Fu Panda 3
,
Latin America
,
Movie
,
Pirates of the Caribbean
,
Pixar
,
Regal Cinemas
,
Studio
,
The Jungle Book
,
Theater
,
Theme Park
,
Wonder Woman