YouTube creators who want to see specifically where people are looking in their 360-degree and VR videos are in luck. The company is introducing a new analytics tool that does just that, via heatmaps, available for any such videos that exceed 1,000 views. YouTube is also sharing tips on 360-degree videos aimed to help video producers. Making these videos is particularly challenging since viewers can watch in a variety of ways, including via a VR headset, the YouTube smartphone app or desktop web browsers, where they can rotate the video.
The Verge reports that YouTube tells producers to focus first on the front-facing view, because its "research has shown that people spent 75 percent of their time in the front 90 degrees of a video." Another piece of advice is to present "a scene that's engaging from multiple angles" to encourage users to explore the entire space.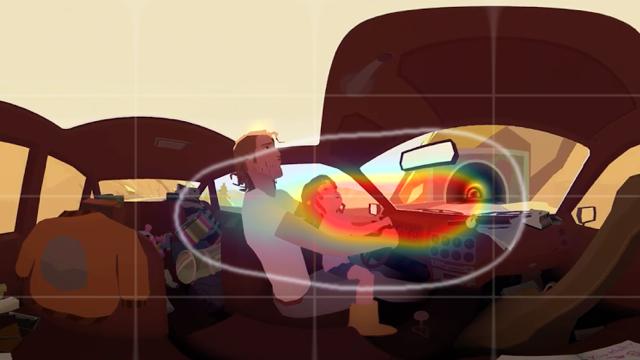 YouTube also suggests that creators "use animations and markers to direct someone's focus in a 360-degree video to make sure they're looking in the right direction at key moments." The Verge adds that, "it would be interesting if YouTube were to give users a way of seeing the popular sections of a video — similar to the way that Facebook Live highlights the popular/most-engaged moments of live video streams."
Engadget reports that, "YouTube's growing library of VR content is a definite asset in Google's struggle to dominate the virtual reality sphere." YouTube's findings from studying its VR content also show that 20 percent of viewers focus directly behind, and that mobile headset users "take a few seconds to get situated in a vehicle (whereas viewers with desktop systems do not)."
Google is now accepting applications for its VR Creator Lab, an upcoming VR training course at YouTube Space LA. Those chosen for the course will start a three-month intensive course this August and get $30,000 to $40,000 to fund their dream project.
For more information on YouTube's heatmaps, visit the YouTube Creator Blog.
Topics:
360-Degree Video
,
Alphabet
,
Analytics
,
Animation
,
App
,
Content Creator
,
Desktop PC
,
Facebook
,
Facebook Live
,
Google
,
Heat Map
,
Internet
,
Live Video
,
Mobile
,
Production
,
Smartphone
,
Social Media
,
Streaming
,
Video
,
Virtual Reality
,
VR Creator Lab
,
VR Headset
,
Web Browser
,
YouTube
,
YouTube Space LA