Canon is developing a Cinema EOS 8K camera and 8K reference display, for "the production of next generation content." Also in the works is a still-image single lens reflex camera with a CMOS sensor offering 120 million pixels, which Canon says is "the world's highest number of pixels for a CMOS sensor smaller than the size of a 35mm full-frame sensor." The company claims that the sensor was able to capture an image showing the lettering on the side of an airplane flying 11 miles from the shooting location.
According to Canon, the Cinema EOS System 8K camera and professional-use 8K reference display are intended "to smooth production workflows, facilitating not only the input and output of 8K video content, but also such processes as 8K to 4K down-conversion and 4K cropping."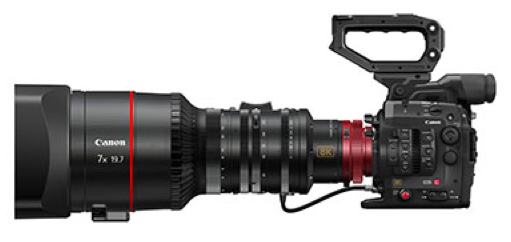 DP Review suggests that "Canon is clearly in a forward-looking frame of mind," noting that, until recently, 8K video has been in the R&D phase almost exclusively in the broadcast industry.
The 8192 x 4320 pixel resolution will offer a 1.90:1 aspect ratio, roughly 17:9, and four times the size of today's DCI 4K standard. Other features of the camera include 60 fps performance and 13 stops of dynamic range as well as a wide color gamut and an EF mount that means cinematographers can avail themselves of Canon's existing EF lenses.
Professional use of an 8K camera requires an 8K reference display; Canon's will provide high dynamic range, a wide color gamut and a pixel density greater than 300 pixels per inch, which DP Review says is "a level approaching the limit of human visibility."
The new SLR camera will offer a resolution of 120 megapixels with its new Canon-developed high-pixel-density CMOS sensor. As part of the EOS platform, the camera will also offer interchangeability with Canon EF lenses. "The high resolution images that the camera will be capable of producing will recreate the three-dimensional texture, feel and presence of subjects, making them appear as if they are really before one's eyes," says DP Review.
Canon also announced two new long-zoom 2/3-inch 4K field lenses, for use with 4K UHD broadcast cameras. The flagship premium UJ86x9.3B (UHD-DIGISUPER 86) and the standard UJ90x9B (UHD-DIGISUPER 90) standard 4K field lenses are "the first in Canon's line of 4K broadcast lenses for covering sporting events, concerts, and other live events."
Topics:
4K
,
4K Cropping
,
4K Down-Conversion
,
4K Lenses
,
8K
,
8K Camera
,
8K Reference Display
,
Camera
,
Canon
,
Cinema EOS
,
CMOS Sensor
,
DCI 4K Standard
,
Digital SLR
,
DSLR
,
EF Mount Lenses
,
HDR
,
High Dynamic Range
,
Interchangeable Lenses
,
Lenses
,
Live Programming
,
Production
,
R&D
,
UHD 4K
,
Video
,
Wide Color Gamut