At the World Economic Forum in Davos, major tech players such as Alphabet, Apple, Facebook and Microsoft asked lawmakers for regulations they once fought. Facing antitrust probes and pushback on AI, privacy and encryption among other issues, these companies believe laws are inevitable and want to have a role in creating them. They also fear a patchwork quilt of global laws. Most recently, the Justice Department sparred with Apple over its request for help to unlock the iPhones of the Saudi Arabian naval trainee who killed three people in Florida.
The Wall Street Journal reports that Microsoft chief executive Satya Nadella did see a downside to Big Tech's involvement in creating this legislation. "These are the kinds of things that need to arrive at legislative solutions, versus individual CEOs of individual companies having to sort of come up with answers to what is a big, massive, societal challenge," he said.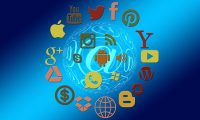 But Nadella and other Big Tech executives did support Apple's refusal to create a backdoor to the iPhone, as Attorney General William Barr demanded in the wake of the murders in Florida.
Apple chief executive Tim Cook "has called for a federal law expanding consumers' rights over their data." Facebook chief executive Mark Zuckerberg, who has advocated for federal privacy legislation, has stated that global regulators "should set clearer rules around online content, election integrity, privacy and data portability." In addition to U.S. states, Europe and India have scrutinized big technology.
Throughout their presentations at the World Economic Forum, Big Tech executives "emphasized the need to cooperate on regulation." "There is no question in my mind that artificial intelligence needs to be regulated," said Alphabet chief executive Sundar Pichai. "The question is how best to approach this."
This year, California's landmark policy that gives consumers more control over their own data took effect. Big Tech lobbied and "succeeded in beating back some of activists' most ambitious goals, such as giving consumers broader rights to sue companies for their data practices."
WSJ notes that this kind of advocacy — in which "engagement on specific proposals … might differ from their public calls for increased government regulation … has a long history in many industries, including oil and insurance."
Although "tech companies might also be motivated to embrace regulation in areas such as privacy and artificial intelligence to head off potentially far-reaching antitrust initiatives … the biggest tests will come with how they respond to specific policy plans or whether they back substantive legislation, according to analysts and former executives."
At Davos, IBM chief executive Ginni Rometty unveiled the IBM Policy Lab, "an initiative to recommend new policies for some of the thorniest challenges in technology." "Government can't do this alone by any stretch," she said. "The first rule would be: Regulate use of technology, not the technology itself."
Topics:
Alphabet
,
Antitrust
,
Apple
,
Artificial Intelligence
,
Big Tech
,
California Consumer Privacy Act
,
Data Privacy
,
Davos
,
Encryption
,
Facebook
,
Ginni Rometty
,
IBM
,
IBM Policy Lab
,
Justice Department
,
Legislation
,
Mark Zuckerberg
,
Microsoft
,
Privacy
,
Regulations
,
Satya Nadella
,
Sundar Pichai
,
Tim Cook
,
William Barr
,
World Economic Forum