In the economic crisis generated by the coronavirus pandemic, Big Tech companies like Amazon, Apple, Facebook and Google are thriving. Amazon and Facebook are viewed as essential services, and Apple and Google are working on tools that will help the nation's state health departments trace COVID-19 infections. While funding for startups shrivels, these companies are hiring. Only months ago, these companies were embattled by regulators and privacy advocates. Now their lobbyists are working to delay California's new privacy law.
The Washington Post reports that, "while the global economy faces potential unemployment and contraction not seen since the Great Depression, the tech giants — and a handful of medium-size tech firms — are already benefiting from new consumer habits … that analysts believe will turn into longer-term shifts in how people shop, work and entertain themselves."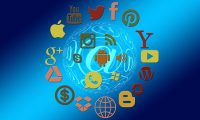 As former Google chief executive Eric Schmidt put it, "when you have an industry leader, and something collapses, the industry leader, if it's well-managed, tends to emerge stronger a year later." New York University marketing professor Scott Galloway noted that Big Tech "can do what very few companies can do, which is play offense in the middle of a pandemic."
Meanwhile, Layoffs.fyi reported that, "over 250 startups have already shed more than 30,000 jobs since March 11" and a recent NFX survey of 400 investors and founders reported that, "more than half of startups said they had initiated a hiring freeze or had lowered their value in the hopes of attracting new investment."
Bloomberg Beta head Roy Bahat said that, "we're telling the startups we invest in that the safest assumption is that the next time you can raise money again is never."
The contrast can be seen in the fortunes of Yelp and Google, which both depend on advertising. Yelp, which furloughed over a third of its 2,000-person workforce, "generates almost all its revenue from advertising by local brick-and-mortar businesses." But, although eMarketer estimated that, "overall spending on search and display advertising, which constitute Google's core businesses, could drop by at least 20 percent or be as high as 38 percent in the quarter starting April 1," Google is diversified and has significant cash reserves.
WP notes that, "many of the traditional industries expected to suffer — brick-and-mortar retail, food service, and media and entertainment — are the same industries that have been gradually gutted by technology since the last recession."
At eMarketer, analyst Nicole Perrin said that, "when the spending comes back, it will favor the biggest tech platforms over smaller digital ad companies and publishers." Sequoia Capital partner Roelof Botha added that, "this is a shock to the system … that accelerates the future that Silicon Valley has been building." "Like the killing off of the dinosaurs, this reorders who gets to survive in the new era," he said.
Related:
Investors Bet Giant Companies Will Dominate After Crisis, The New York Times, 4/28/20
Topics:
Advertising
,
Amazon
,
Apple
,
Bloomberg Beta
,
Brick-and-Mortar
,
California
,
Coronavirus
,
COVID-19
,
Display Ads
,
eMarketer
,
Eric Schmidt
,
Facebook
,
Google
,
Layoffs.fyi
,
New York University
,
NFX
,
Nicole Perrin
,
Privacy
,
Roelof Botha
,
Roy Bahat
,
Scott Galloway
,
Sequoia Capital
,
Silicon Valley
,
Startup
,
Yelp