The S&P 500 achieved record heights via the 37 percent rise in shares of the Big Five tech companies in the first seven months of 2020. Apple, Amazon, Alphabet, Microsoft and Facebook, the five largest publicly traded companies in the U.S., now account for 20 percent of the entire stock market's total value. Meanwhile, according to Credit Suisse, all other stocks, fell a combined 6 percent. Apple's valuation hit $2 trillion, the first U.S. company to do so, and only 21 weeks after its $1 trillion valuation.
The New York Times reports that the tech sector dominance of the stock market "has only deepened during the pandemic" as users flock to digital and online solutions and investors are encouraged to buy their shares. "COVID-19 was the perfect positive storm for these guys," said New York University finance professor Thomas Philippon.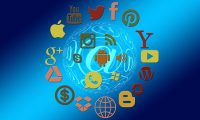 Alphabet, Amazon and Facebook, the four most visited sites in the U.S., saw their daily viewership increase sharply with the arrival of the pandemic in March — according to SimilarWeb, 15 percent for Facebook and 10 percent for YouTube. Amazon's stock is "up over 50 percent from its pre-pandemic high."
Pompeu Fabra University economics professor Jan Eeckhout noted that, in 1929, "Sears and A&P accounted for 3 percent of retail sales," which sparked concern and government adoption of antitrust laws. Today, however, "Walmart and Amazon jointly account for 15 percent of retail sales."
A RAND Corporation report revealed "connections among top companies," with Amazon its "leading example." That company dominates with its e-commerce marketplace and Amazon Web Services, which powers Slack, Zoom, DoorDash and Netflix among other digital services.
"Amazon is a very central digital hub, and it epitomizes the direction our economy has taken," said the report's lead author Jonathan Welburn. Synergy Research reported that, "global spending on cloud computing rose 33 percent to more than $30 billion in the second quarter."
Elsewhere, NYT reports that Apple's rise from $1 trillion to $2 trillion in valuation took place "while the global economy shrank faster than ever before in the coronavirus pandemic." In mid-March, the company's valuation slid below $1 trillion until the Federal Reserve announced "aggressive new measure" on March 23.
Since then, "investors have poured billions of dollars into the tech behemoths, betting that their immense size and power would serve as refuges from the pandemic-induced recession." Now, said S&P Global market analytics firm, the Big Five tech companies' value has reached "almost $3 trillion since March 23, nearly the same growth as the S&P 500's next 50 most valuable companies combined, including Berkshire Hathaway, Walmart and Disney."
NYT also notes that, "Apple's rapid rise to $2 trillion is particularly astonishing because the company has not done much new in the past two years … [but] has simply built one of the tech industry's most effective moneymakers, which has such a firm grip over how people communicate, entertain themselves and shop that it no longer relies on groundbreaking inventions to keep the business humming."
Topics:
Alphabet
,
Amazon
,
Apple
,
AWS
,
Berkshire Hathaway
,
Cloud
,
Coronavirus
,
COVID-19
,
Credit Suisse
,
Disney
,
DoorDash
,
E-Commerce
,
Facebook
,
Jan Eeckhout
,
Jonathan Wellburn
,
Microsoft
,
Netflix
,
New York University
,
Pompeu Fabra University
,
RAND Corporation
,
S&P 500
,
S&P Global
,
Sears
,
Similarweb
,
Slack
,
Synergy Research Group
,
Thomas Philippon
,
Walmart
,
YouTube
,
Zoom