There has been a great deal of speculation in recent months regarding Beats Music, the new streaming service from the makers of Beats by Dr. Dre headphones, that intends to take on Spotify and others. Most reports had indicated the launch date was being pushed beyond 2013, but little was known about the service or its status. Now it looks like the target launch is January. Newspaper ads are appearing that simply read "coming soon" and a blitz of TV ads are expected.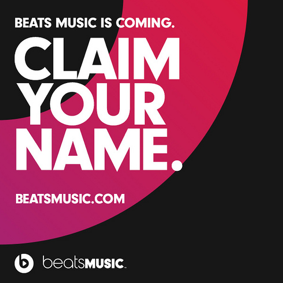 "We are locked and loaded, ready to launch here in the U.S. in January 2014," wrote Ian Rogers, Beats Music's chief executive, on his blog yesterday morning.
"Like Spotify, Rdio, Rhapsody and similar services, Beats Music will stream millions of songs to users for a monthly fee," reports The New York Times. "But Beats executives, including Jimmy Iovine, the record mogul who is one of the founders of the Beats headphone company, have made bold claims in the past deriding other services — even Apple's iTunes — as being bland and uninviting."
The playing field for music services is becoming increasingly crowded. Earlier this week, we reported that YouTube is planning to launch its premium on-demand music service, including video. Nokia's MixRadio, an ad-free playlist service on the Windows Phone platform, aims to become a simpler version of Pandora.
"The Beats announcement comes amid a flurry of other news among subscription services," notes NYT. "Rdio, which had a round of layoffs last month, announced this week that it has appointed a new chief executive, Anthony Bay, a former digital media executive at Amazon, Microsoft and Apple. Spotify, shortly after raising $250 million in new investment, said it would give artists listening data, a move widely interpreted as an olive branch toward musicians like Thom Yorke and David Byrne who have harshly criticized the company's financial model."
Topics:
Ad-Free
,
Ads
,
Advertising
,
Amazon
,
Apple
,
Bay
,
Beats
,
Beats Music
,
Byrne
,
Dr. Dre
,
Headphone
,
Iovine
,
iTunes
,
Launch
,
Licensing
,
Microsoft
,
MixRadio
,
Music
,
Nokia
,
Pandora
,
Phone
,
Playlist
,
Premium
,
Radio
,
Rdio
,
Rhapsody
,
Rogers
,
Song
,
Spotify
,
Stream
,
Streaming
,
Subscribe
,
Subscription
,
Television
,
TV
,
Video
,
Windows
,
Yorke
,
YouTube