A $99 device called InAIR from startup SeeSpace hopes to combine the best of your laptop, smartphone and TV all in one place by layering social media and Web content inline with the programs you are watching. Billed as "the world's first augmented television," the project exceeded its $100,000 goal on Kickstarter by nearly $78,000 a few days ago. InAIR plugs directly into the TV through its smart HDMI cable, connects to the set-top box, and pulls data from the movie or TV show currently airing.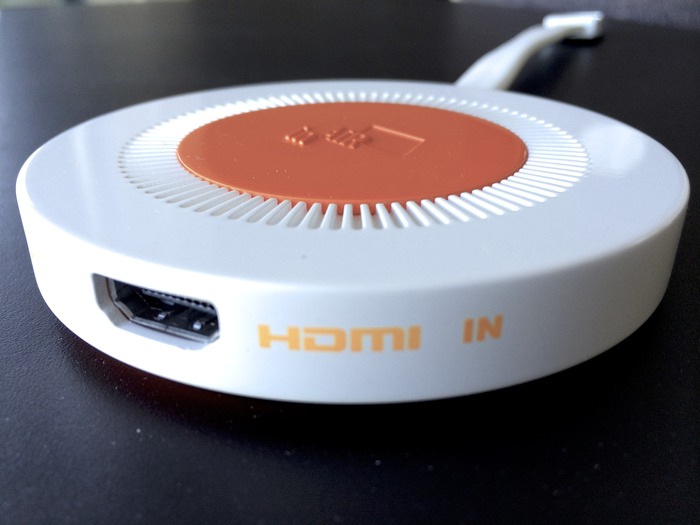 The device then parses the content "using natural language processing and other patented technologies, and presents related content pulled directly from the Web and social media on the television screen," reports TechCrunch. "The user interacts with the InAIR by using a simple mobile app, or through gesture control by incorporating the Microsoft Kinect — giving the possibility for the 'Minority Report' experience to come to life."
"With InAIR plugged in, your TV becomes an Augmented Television," explains the project's Kickstarter page. "You can turn any ordinary television into a new and wonderful medium, filled with rich and dynamic information from the Web. InAIR uses your TV screen and layers in additional content from the Web and social media."
"When activated in 3D mode, the layers of Internet content appear to be positioned in front of the screen and can be dynamically manipulated by the viewer. These foreground layers of information appear to be holograms, and floating 'in air.'"
According to SeeSpace, the system does not require a 3D TV. "The same dynamic, layered experience can work in 2D mode on any television. The interface and UX of InAIR were designed to simulate dimension whether that experience space is 'inside' the TV (in 2D mode) or extended into the room (in 3D mode)."
SeeSpace has posted a compelling 5-minute video on its Kickstarter page.
Topics:
3D
,
App
,
Augmented
,
Cable
,
Content
,
Control
,
Crowdfund
,
Crowdfunded
,
Film
,
Gesture
,
Goal
,
HDMI
,
Hologram
,
InAIR
,
Internet
,
Kickstarter
,
Kinect
,
Language
,
Laptop
,
Layers
,
Microsoft
,
Minority Report
,
Mobile
,
Motion
,
Movie
,
Natural
,
Online
,
Patent
,
Phone
,
Program
,
Project
,
Screen
,
SeeSpace
,
Show
,
Smartphone
,
Social
,
Startup
,
STB
,
Television
,
TV
,
Web