Google previously announced that Austin, Texas would join the Kansas City area in receiving its ultra-fast Google Fiber service. Now, AT&T says it will also offer gigabit fiber Internet in Austin, beginning in December. The company's AT&T U-verse with GigaPower will initially provide 300 Mbps speeds, with an upgrade to a full 1 gigabit connection next year. In related news, Japanese carrier NTT DoCoMo aims to offer 5G wireless by 2020 with "1000 times the capacity and 100 times the speed as the current network."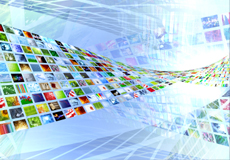 According to the press release: "AT&T's U-verse with GigaPower complements its three-year Project Velocity IP (VIP) investment plan to expand and enhance its wireless and wireline IP broadband networks to support growing customer demand for high-speed Internet access, advanced TV services, and new mobile and cloud services. This year, AT&T plans to invest in the $21 billion range and in the $20 billion range each year in 2014 and 2015."
"Pricing for the new offering hasn't been announced, but it will also include television service," reports Wired. "Google hasn't begun rolling out Fiber in Austin, and it hasn't announced pricing there either. Google charges $70 a month for its gigabit Internet connection alone and $120 a month for its Internet plus television package. It also offers a 'free' 300 mbps Internet service for a one-time construction fee of $300."
While leading telcos including Verizon and AT&T have shifted their focus to lucrative wireless services over fixed line services, and cable providers have been slow to upgrade their services, Google Fiber may be forcing such companies to rethink their approaches.
"Time Warner Cable announced a new wireless service in Austin after the Google Fiber announcement, and CenturyLink announced a gigabit fiber service in Omaha, Nebraska not long after Google announced it would take over Provo, Utaha's fiber Internet provider," notes Wired. "Smaller broadband providers, such as the Lawrence, Kansas-based Wicked Broadband, have also stepped up their offerings in anticipation of competition from Google."
Meanwhile, NTT DoCoMo released additional details regarding its 5G wireless plans at the recent CEATEC event in Japan. While implementation is not anticipated until 2020, and a 5G standard has yet to be ratified, the Japanese carrier has high expectations.
"Representatives for the company told us that the challenge is going to be dealing with range limitations in higher frequency spectrum, but it plans to employ 'high-frequency bandwidth by transmitting with a large number of antenna elements,'" reports Engadget. "The goal for looking so far forward? It's already seeing an insane appetite for video on networks that can barely maintain poise under the load, and the notion of transferring 4K content to the masses is going to require a substantial upgrade."
Topics:
4K
,
5G
,
AT&T
,
Austin
,
Broadband
,
Cable
,
CEATEC
,
CenturyLink
,
Cloud
,
Fiber
,
Gigabit Fiber
,
GigaPower
,
Google
,
Google Fiber
,
Internet
,
IP
,
Japan
,
Kansas
,
Mobile
,
Nebraska
,
NTT DoCoMo
,
Omaha
,
Project Velocity
,
Provider
,
Provo
,
Telco
,
Television
,
Texas
,
Time Warner
,
TV
,
TWC
,
U-verse
,
Utaha
,
Verizon
,
Video
,
VIP
,
Wicked
,
Wireless