Two of the largest Internet providers are making money by tracking customers' Web browsing with supercookies and in-house traffic scanning. This allows AT&T and Verizon to sell a highly personalized ad-targeting program that will place ads in websites, email, and even snail mail. Verizon customers can now opt out and disable the supercookies for free, but AT&T customers seeking privacy will have to pay several fees that could tack on an additional $60 to their monthly bill.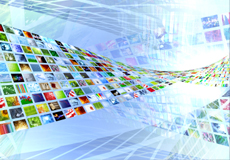 Verizon tracks customers through their smartphones and tablets. According to The New York Times, the company "tagged users with undeletable tracking codes," sometimes called supercookies. Verizon followed through on its January announcement to add the ability to stop inserting the tracking code.
Until this week, customers could only unsubscribe from the marketing, but they were still tagged with the unique identifiers. Security researchers proved that third-parties could easily take advantage of those identifiers to track a user's web browsing habits.
Members of the Senate Committee on Commerce, Science and Transportation have put pressure on Verizon to change its privacy practices. They sent a letter to the company in January asking for explanation of the tracking codes. Critics say that company could still make the program an opt-in or getting rid of it altogether.
AT&T, meanwhile, shows no signs of stopping its tracking. All of its users' Web browsing is rerouted to an in-house traffic scanning platform, according to Ars Technica, which allows the company to sell highly personalized ads. Searching concert tickets may prompt offers and ads to nearby restaurants to appear in the user's inbox, on website they visit, or even in their mailbox.
The company charges at least $29 extra to provide Internet without the scanning. Some modem and installation fees are also only applied when a customer does not have the standard Internet service with tracking.
AT&T can do this because it asks for consent to track customers and it explains how the data tracking works. The Electronic Frontier Foundation Senior Staff Attorney Lee Tien told Ars Technica that "AT&T has tried very hard to cover its bases" and that it might be hard to challenge in court. One solution to regain privacy is for users to invest in a virtual private network to encrypt the data so that AT&T's platform cannot read it.
Topics:
Ad-Targeting
,
AT&T
,
EFF
,
Email
,
Internet Providers
,
ISPs
,
Lee Tien
,
Mail
,
Marketing
,
Personalized Ads
,
Privacy
,
Security
,
Senate
,
Smartphones
,
Supercookies
,
Tablets
,
Tracking
,
Tracking Codes
,
Traffic Scanning
,
Unique Identifiers
,
Unsubscribe
,
Verizon
,
Verizon Wireless
,
VPN
,
Web Browsing
,
Website Ads