Apple is readying the fall release of its new iPhone line-up, including the redesign and the addition of 5G to two high-end phones and two less expensive models to replace the iPhone 11. Sources report that among the redesign of the top-tier phones are flat stainless-steel edges and flat screens. Yesterday, the company delivered a virtual unveiling of its new iPhone SE, featuring a design similar to its older iPhone 8. Apple also plans to release a new version of its HomePod speaker that is smaller and cheaper than the original, in addition to Apple Tags for tracking keys, wallets and other objects.
Bloomberg reports that, "because of disruptions caused by the coronavirus pandemic, at least some of the new iPhones could be released multiple weeks later than normal, though still within the typical fall window." The highest-end iPhone "is set to have a screen slightly larger than the 6.5-inch panel on the iPhone 11 Pro Max," and all the new iPhone Pro models will offer three cameras on the back as well as the 3D LIDAR system first shown with the iPad Pro.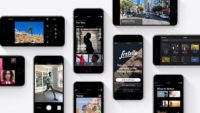 All the phones, said sources, "are planned to include a significant upgrade to the processor with an emphasis on speeding up artificial intelligence and AR tasks." Due to the disruptions wrought by the coronavirus, including a slowed-down China-based supply chain, however, "Apple's launch plans and iPhone specifications could still change."
With regard to the new HomePod speaker, sources said the device will be "about half the size of the original," with a target release date of the "second half of this year." The less expensive price point will help Apple compete with Amazon and Google's smart speakers, which "currently dominate the U.S. market."
Although HomePod offers "superior sound quality … [it] has largely been seen as a failure in terms of sales" due to its "narrower compatibility with music streaming services and smart home products as well as the limited functionality of Apple's voice assistant, Siri." The upcoming Apple Tags will offer functionality similar to Tile trackers and other such devices and will come "bundled with an Apple-designed leather sleeve and a keychain to attach it to objects," said sources.
"Apple unveiled its latest iPhone on Wednesday," reports The New York Times. "The new iPhone SE (above) arrives with a lower price: At $399, it costs about 40 percent less than the regular $699 iPhone. The device has the design of an older generation of iPhones, with the same computing power as newer ones. That means the SE looks like an iPhone from 2014, with a smaller screen and a home button instead of a face scanner, but is as fast as the fancier iPhone 11 from 2019."
The new iPhone SE, with Apple's A13 processor (the same processor in the iPhone 11) and a main camera featuring a single lens with Portrait Mode and Smart HDR (compared to the more sophisticated dual- and triple-lens systems of higher-end iPhone models), will be available April 24 (pre-orders begin April 17). According to Digital Trends, "the 64GB model will cost $400, the 128GB model $450, and the 256GB model $550. Both SIM-free versions and those sold with contracts on AT&T, Sprint, Verizon, and T-Mobile will be available."
In an earlier article, Digital Trends noted that Apple's release of "lower-end flagship iPhones … could [be] part of the company's ongoing push towards more affordable phones for regaining market share, especially in regions such as India, where its position has faltered lately."
Topics:
3D
,
5G
,
A13 Processor
,
Amazon
,
Apple
,
Apple Tags
,
Artificial Intelligence
,
AT&T
,
Augmented Reality
,
Camera
,
China
,
Coronavirus
,
COVID-19
,
Google
,
HDR
,
HomePod
,
India
,
iPad Pro
,
iPhone
,
iPhone 11
,
iPhone 11 Pro Max
,
iPhone 8
,
iPhone SE
,
Lidar
,
Mobile
,
Music
,
Siri
,
Smart Home
,
Smart Speaker
,
Sprint
,
Streaming
,
Supply Chain
,
T-Mobile
,
Tracker
,
Verizon