According to market researcher Canalys, Apple is maintaining a comfortable lead in the global PC market, despite a disappointing quarter for the iPad. In the worldwide market sector that includes tablets, laptops and desktops, Apple is the number one supplier, with Lenovo gaining ground. Apple sold about 20 million Macs and iPads in the first quarter. While the decline in iPads was the sharpest to date, Canalys believes Apple will continue to dominate the tablet market, due in large part to its robust ecosystem.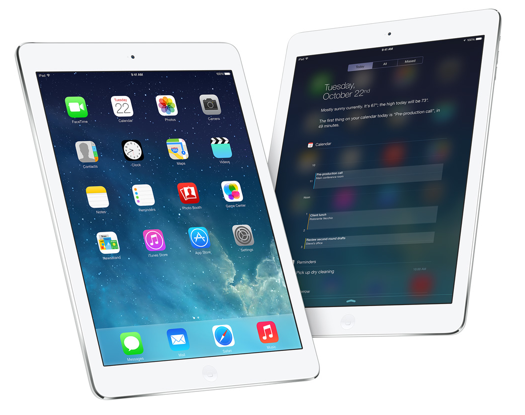 The global PC market experienced 5 percent growth for Q1 year-over-year to 123.7 million units. "Tablet shipments grew a notably smaller 21 percent year-over-year to 50.8 million units, but still accounted for 41 percent of the market, while laptops had 38 percent," reports The Next Web. "Meanwhile, the worldwide decline in laptops slowed to 7 percent and desktops remained flat."
"Lenovo was No. 2 and increased its share of combined tablet and traditional PC shipments (laptops and desktops) to 12 percent from 10 percent in the year earlier period," adds CNET. "It is now placed first, second, and third in the notebook, desktop, and tablet markets respectively, according to Canalys."
Hewlett-Packard was No. 3 in combined shipments, but shipped fewer than 400,000 tablets in the first quarter. HP was followed by Samsung and Dell.
"We do not believe Apple's Q1 performance points to a decline in the tablet category, despite growing pressure from larger-screen smartphones. Consumers, and increasingly businesses, are continuing to adapt, with tablets acting as disruptors and finding their place as desktop and notebook replacements," according to Canalys. "The U.S. market was adversely affected by a drop in Apple iPad shipments, which fell 40 percent. This was offset somewhat by 20 percent growth in China, Apple's second largest market. Worldwide, iPad shipments in Q1 fell 16 percent year on year to 16.4 million and accounted for 80 percent of Apple's total PC shipments."
Topics:
2014
,
Air
,
App
,
Apple
,
Business
,
Canalys
,
Category
,
China
,
CNET
,
Computer
,
Consumer
,
Decline
,
Dell
,
Desktop
,
Disrupt
,
Disruptive
,
Ecosystem
,
Global
,
Growth
,
Hewlett-Packard
,
HP
,
International
,
iPad
,
Laptop
,
Lenovo
,
Mac
,
Market
,
Next Web
,
Notebook
,
PC
,
Phablet
,
Q1
,
quarter
,
Report
,
Research
,
Samsung
,
Screen
,
SHIFT
,
Ship
,
Shipment
,
Size
,
Smartphone
,
Supplier
,
Tablet
,
Trend
,
U.S.
,
World
,
Worldwide