Apple unveiled its new iPhone 6 and iPhone 6 Plus at a press event in Cupertino yesterday. The next-gen smartphones feature higher resolution displays, improved camera capabilities, and a glass that curves around the sides. The iPhone 6 Plus has a 5.5-inch screen, the largest so far for an Apple phone. The company also introduced the long-awaited Apple Watch, its first major new product since the iPad in 2010. The $349 smartwatch will work with iPhone 5 models and the new iPhones.
"Apple Watch is the most personal device we've ever created," said CEO Tim Cook. "It will redefine what people expect from a watch."
The long-rumored watch — often referred to as the iWatch — features a physical rotary wheel on one side and support for a wide variety of apps as well as health monitoring and fitness tracking.
The "digital crown" rotary wheel enables controls such as zoom, scroll and return to the homescreen. A card-based interface called "Glances" makes for easy navigation.
"The Apple Watch has a Retina display that knows the difference 'between a tap and a press' thanks to a sensor that detects pressure from a finger on the display," explains Wired.
The $349 device is scheduled to launch in early 2015.
The new iPhone 6 features a 4.7-inch display, while the iPhone 6 Plus touts a 5.5-inch screen. Both are the new generation of Retina display, which Apple calls "Retina HD," due in part to the increased pixel density.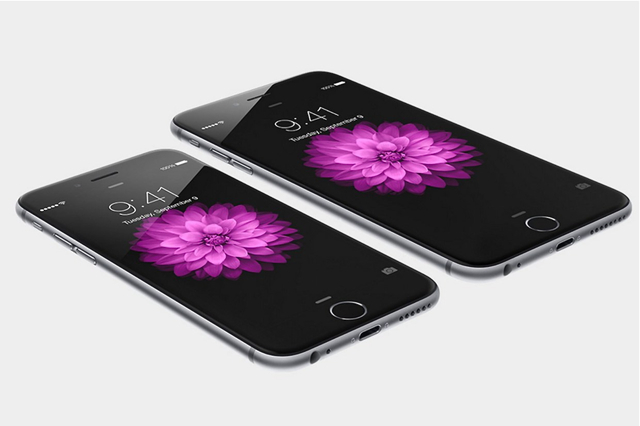 "The iPhone 6 will have a screen resolution of 1,334×750 pixels, while the larger model will have a Full HD 1,920×1,080-pixel display," reports Wired. "On these larger screens the size has allowed Apple to bake in two-panel view, meaning inboxes can be read on the left, while an open message can be seen on the right. This extends to the homescreen, which can now be arranged in portrait view where the application dock sits on the side of the screen rather than the bottom."
Since the phones feature larger screens and the iPhone 6 Plus supports 1080p video, Variety suggests this will prove to be "good news for content owners that sell movies and TV shows through iTunes, producers of Web series and short videos that play on YouTube, and streaming video services like Netflix. But more on screen real estate also will benefit app and gamemakers."
Apple's Phil Schiller noted that the 64-bit A8 processor is 25 percent faster than the iPhone 5s and 50 percent faster for graphics rendering, which should make gamers happy. He also said the new phones have "equal or better" battery life compared to the iPhone 5s.
The camera features new technology called "focus pixels" for better autofocus, improved face detection, and 43-megapixel panorama capture. The iPhone 6 Plus comes with optical image stabilization.
According to Wired, "Videos are still captured at 1080p but can now be captured at 60fps up from 30fps; slow-motion video can be captured at 240fps, up from 120fps as seen first in the iPhone 5s."
Both phones are set to launch September 19 in the U.S.
The company also debuted its mobile payment system called Apple Pay, which aims to address privacy and payment information leaks. The system allows users to make purchases via sensors in the new iPhones without having to share credit card, address and personal info with merchants.
Apple already has alliances with American Express, MasterCard and Visa. Retailers such as Bloomingdale's, Macy's, McDonald's, Sephora, Subway and Whole Foods have said they will support Apple Pay.
While services including PayPal, Square and Stripe could face new competition, "Square and Stripe said they're working to make their mobile-payment applications compatible with Apple Pay," reports Bloomberg. "Stripe said it will enable one-touch payments for businesses that use Stripe."
Related Stories:
What Apple's New Products Say About the Future, The Atlantic, 9/9/14
We Got Our Hands on the Apple Watch (Video), Engadget, 9/9/14
With Apple Pay, a Push into Mobile Payments, The New York Times, 9/9/14
Privacy in Spotlight as Apple Unveils New Products, Politico, 9/9/14
Topics:
American Express
,
App
,
Apple
,
Apple Watch
,
Apply Pay
,
Camera
,
Cupertino
,
Fitness
,
Gaming
,
Glances
,
Health
,
iPad
,
iPhone 6
,
iPhone 6 Plus
,
iTunes
,
Mastercard
,
Mobile
,
Mobile Payment
,
Movie
,
Netflix
,
PayPal
,
Phablet
,
Phil Schiller
,
Privacy
,
Retina Display
,
Retina HD
,
Smartphone
,
Smartwatch
,
Square
,
Stripe
,
Tim Cook
,
TV Show
,
Video
,
Visa
,
YouTube