Another wearable that is in its infancy is smart fabrics, suggests Digital Trends mobile editor Malarie Gokey, noting that most are currently focused on fitness and sports. During a CES session, Sensoria Inc. co-founder/chief executive Davide Vigano pointed out that one of the draws of smart fabric is "established research on the inaccuracy of wristband devices." "Also, putting on clothes in the morning is something we all do," he added. The fashion industry is also beginning to discover smart fabric, making it a rising trend.
Fashion designer Sylvia Heisel, creative director at HEISEL, reports that leisure apparel is the fastest growing category. "Sensors are becoming fashionable," she said. "So it's also going that direction. It's not about trying to make sensors look good. Consumers see them and think it's a cool thing to wear."
Dr. Jesse Jur, assistant professor at North Carolina State University, reports that the cost point for sports apparel and smart fabrics is coming down, making it more appealing. Integrating fashion and electronics, however, can be very challenging. Vigano recounts that his company "totally underestimated the challenge in the beginning."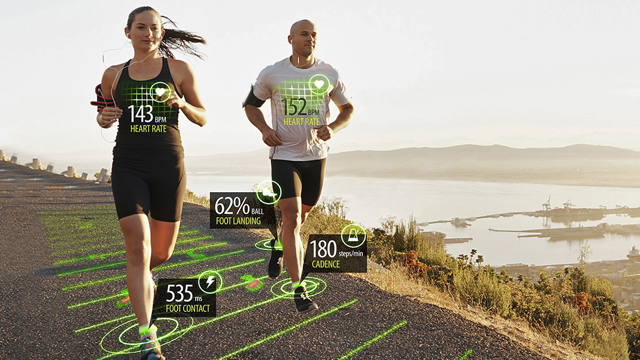 "The chasm between the research and the manufacturer was huge five years ago," he said. Getting to the point where smart fabric can give the consumer real-time metrics, he added, is still a goal for the future.
Jur adds that another challenge is the supply train, since, in the textiles world, initial concept to shelf can take 18 months. "From an electronics standpoint, that sounds crazy," he said. "Some of the materials have a low shelf life. So you can't store high quantities of the materials, making high volume very difficult. From a manufacturing standpoint, the global nature of the business also hurts the supply train. As transportation costs go up, it'll be hard to justify the cost of these garments."
Heisel, who noted that the sewing factory hasn't changed in 150 years, is turning to 3D printed clothing. "3D printing will be the future of clothing," predicts Gokey. Jur reports that other companies using 3D printing of garments can make a full torso shirt in 45 minutes. "Visualizing and designing in 3D, the way a body is, is opposed to taking flat fabric and joining it together," said Heisel. "It's an easier integration of smart materials and electronics than traditional garment manufacturing."
According to Vigano, who believes 3D printing will also enable hyper-personalization, Under Armour has already announced that all its products will contain sensors in three years. "All the brands have to do it," he said. "It you're Adidas or Nike, you need to learn about your client to make products for them, and the only way to do it is to connect with them."
Jur reports that the first electronics that will become part of every piece of clothing is RFID, to track its history. Heisel notes that this can help manufacturers track usage, and offer a new shirt when the current one has been washed so many times. "If you can provide the consumer something customized to them, that's value back from the data," she said.
With regard to charging, Jur reports he is working on self-powered charging. "We're learning where in the body you can harvest power and change the textiles to improve that power harvesting," he said. "We're all here because Bluetooth Low Energy changed everything. Now, MEMS are improving, radio protocols are changing. At some point, we'll be the battery."
Topics:
3D Printing
,
Adidas
,
Apparel
,
Batteries
,
Bluetooth LE
,
CES 2017
,
Clothing
,
CTA
,
Davide Vigano
,
Digital Trends
,
E-Textiles
,
Fashion
,
Fitness
,
HEISEL
,
Jesse Jur
,
Malarie Gokey
,
MEMS
,
Metrics
,
Nike
,
North Carolina State University
,
RFID
,
Sensor
,
Sensoria
,
Smart Fabric
,
Sports
,
Sylvia Heisel
,
Under Armour
,
Wristband