Microsoft is planning a push into VR this year with its Windows Holographic software and Windows-compatible VR headsets. At CES, Chinese consumer tech company Lenovo is previewing its own upcoming headset based on the Windows Holographic platform (users will need a PC with Windows 10), which is expected to launch during the second half of 2017. Priced under $400, it seems Lenovo is looking to compete with the Oculus Rift, HTC Vive and PlayStation VR. Interestingly, the unnamed Lenovo headset will also feature the ability to run some augmented reality experiences using external cameras.
While the CES model is a non-working prototype, it is difficult to adequately review. However, the design and price point are appealing to analysts.
At just 350g, Lenovo's device is lighter than the Oculus Rift and HTC Vive. And with two 1440×1440 panels, the company claims it offers higher resolution than the Oculus and HTC headsets.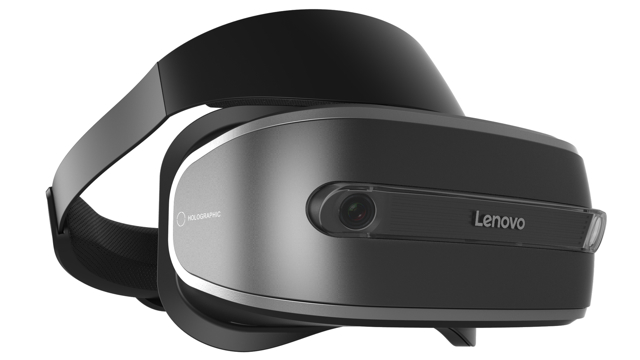 "Its design is far more comfortable than most VR headsets," suggests CNET. "It's significantly lighter than either the Rift or Vive headsets. Its headband design is also more glasses-friendly, much like the PlayStation VR. A flip-up front could also [make] switching between working in VR and the real world a lot easier."
Since the Lenovo device uses different tracking and controls, it is not expected to be compatible with Oculus and Vive apps, but the company is planning its own Entertainment Hub of VR movies, games and software.
"Lenovo's vision for the Entertainment Hub is to have it act as a gateway for VR content, even if the content wasn't made for VR," explains Ars Technica.
"Lenovo demoed an HTC Vive showing the 'Minion' movie with a VR extra: you're situated in a virtual theater watching the movie on an IMAX-like big screen. You can also take a regular video game, like 'Deus Ex: Mankind Divided,' and play it partially in VR using a headset with motion tracking and the … optional Xbox wireless receiver and connected controllers" available for Lenovo's new Legion Y720 gaming notebook, also debuted at CES.
The company says its headset can scan objects to place them in VR, potentially making the device a mixed reality headset.
Lenovo's "headset has its own depth-sensing cameras on the front, similar to Microsoft's HoloLens tech, allowing for full-room movement tracking without any extra sensors," notes CNET. The tech "will allow Lenovo's headset — and other Windows Holographic-ready VR headsets from Dell, HP and others — to use some HoloLens apps."
Related:
Lenovo's Legion Y720 Is a Laptop Designed Specifically for Virtual Reality, Digital Trends, 1/4/17
Microsoft Shows Off Windows Holographic VR Headsets from Dell, Acer, HP, Lenovo and 3Glasses, MSPoweruser, 1/6/17
Topics:
Acer
,
Apps
,
Augmented Reality
,
Cameras
,
CES 2017
,
China
,
Dell
,
Deus Ex: Mankind Divided
,
Gaming
,
HoloLens
,
HP
,
HTC Vive
,
IMAX
,
Legion Y720
,
Lenovo
,
Microsoft
,
Minions
,
Mixed Reality
,
Motion Tracking
,
Movies
,
Oculus Rift
,
PlayStation VR
,
Sensors
,
Software
,
Sony
,
Video
,
Virtual Reality
,
VR Headsets
,
Windows 10
,
Windows Holographic
,
Xbox