In an ongoing dispute over Apple's 30 percent commissions in its App Store, Epic Games, maker of "Fortnite," threw down the gauntlet by openly encouraging players to pay the company directly, rather than through Apple and Google's app stores. But within hours of the announcement, Apple removed "Fortnite" from its App Store, noting Epic's "express intent of violating App Store guidelines." Google also pulled the game from its Play Store. Epic Games responded by suing the two tech giants in federal court, claiming antitrust violations.
The New York Times reports that Epic's 62-page lawsuit against Apple accuses the tech company of violating antitrust laws and "flexing its enormous power in order to impose unreasonable restraints and unlawfully maintain its 100 percent monopoly" over in-app payments.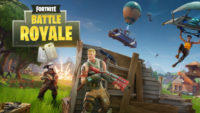 Epic Games also debuted a "sophisticated public-relations campaign that depicted Apple … as the stodgy old guard trying to stifle the upstart." That short video (a satire of Apple's iconic "1984" ad), with its #FreeFortnite hashtag quickly trending on Twitter, can be seen here.
Although Google removed "Fortnite" from its "official Android app store," the game can still "be downloaded from other places, unlike on iPhones."
NYT opines that, "in Epic, Apple has met arguably its toughest adversary in years," with its PR campaign "making iPhones less attractive and Apple less cool." Moreover, Epic, valued at roughly $17 billion "now appears poised to sacrifice millions of dollars in revenue in a fight that will keep 'Fortnite' off iPhones." Apple's App Store policies have been the source of complaints by app developers and scrutiny by "European regulators, Justice Department officials and state attorneys general."
Apple is focusing its future on services, which have become "its second-largest source of revenue after sales of the iPhone, at $51.7 billion over the past year." Much of that is "built on its cut of other apps' sales," which makes it more crucial for Apple not to back down.
Having been removed from the App Store, however, Epic Games will not be able to update the "Fortnite" app, "meaning it will eventually become obsolete as Apple updates the iPhone software" although the impact will be less for Android users who can download the game from Epic's website. As a result, the current situation is "a net positive for Google, as the hordes of 'Fortnite' fans could now favor its devices over Apple's."
Vanderbilt Law School professor Rebecca Haw Allensworth noted that, by filing a suit, Epic is more likely to win in the court of public opinion than in actual court. "Fortnite" itself is "an enormous enterprise … [with] more than 350 million registered players … [and] $1.8 billion in revenue last year," according to SuperData. Sensor Tower added that, since March 2018, the app has been downloaded 133+ million times on iPhones and iPads, bringing in about $1.2 billion.
"Epic could likely have worked out a privileged deal with Apple — as other big tech companies have," said Epyllion Industries managing partner Matthew Ball. "Instead, it is fighting for the marketplace."
The Verge reports, "Epic claims that Google forced phone manufacturer OnePlus to break off a deal that would have seen a special 'Fortnite' launcher preinstalled on OnePlus phones," and also demanded LG do the same on its Android phones.
Related:
Huge Video Game Companies Are Exposing Apple's iOS Hypocrisy, Engadget, 8/14/20
Epic Games' Founder Tim Sweeney Is Fighting Apple, Google. He's Been Preparing for Years, The Wall Street Journal, 8/14/20
How Apple's 30% App Store Cut Became a Boon and a Headache, The New York Times, 8/14/20
Facebook Says Apple In-App Fees Hurt Businesses During COVID, Bloomberg, 8/14/20
Topics:
Android
,
Antitrust
,
App
,
App Store
,
Apple
,
Epic Games
,
Epyllion Industries
,
Fortnite
,
Gaming
,
Google
,
Google Play Store
,
In-App Payment
,
iOS
,
iPhone
,
Justice Department
,
LG
,
Matthew Ball
,
Monopoly
,
OnePlus
,
Public Relations
,
Rebecca Haw Allensworth
,
Sensor Tower
,
SuperData
,
Twitter
,
Vanderbilt Law School