Amazon is expected to launch a new sub-$300 games and entertainment device this year that runs Android. To compete with the likes of Sony, Microsoft and Nintendo, the product — the name of which has yet to be announced — is said to stream and download games, music, movies and television content. Key to the device's success is its price point, on par with Amazon's Kindle and Kindle Fire HD, which are priced comparatively lower than Apple's iPad.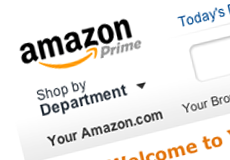 According to VG247, this new device (currently going by several different code names) is likely to be a hit because the retailer "already has an active customer base of 200 million people along with their payment details," and 10 million of those customers subscribe to Amazon Prime for $79 per year. Analysts have said they expect Prime's subscribers to grow at 5 million per year.
Amazon already has great success in the sale, rental and delivery of various media, including movies and games. "The new console is designed as a central point in the living room to group all of those services together and make use of the home TV screen," the article reports.
"Senior publishing sources have been meeting with Amazon for a briefing on the hardware," VG247 says, "and popular Android and iOS games have been used to demo the device."
At the beginning of the year, Amazon reportedly sent invites for a recruitment event for "a new revolutionary V1 [Version 1] product that will allow us to deliver Digital Media to customers in new ways and disrupt the current marketplace."
Amazon is recruiting for its games development team and that the company is looking for people with knowledge in triple-A games across production, art, tech and design roles.
"VG247 understands that the Android console was due to launch last year but was delayed at the last minute and is now expected in 2014," notes the article.
Topics:
Amazon
,
Analyst
,
Android
,
Apple
,
Console
,
Cost
,
Demo
,
Develop
,
Developer
,
Device
,
Download
,
Entertainment
,
Event
,
Film
,
Fire
,
Gamer
,
Games
,
Gaming
,
Growth
,
HD
,
iOS
,
iPad
,
Kindle
,
Launch
,
Microsoft
,
Movies
,
Music
,
Nintendo
,
Price
,
price point
,
Prime
,
Production
,
Recruitment
,
Rental
,
Retail
,
Retailer
,
Screen
,
Sony
,
Stream
,
Streaming
,
Subscribers
,
Television
,
Triple-A
,
TV
,
VG247
,
Video