The Oculus Rift virtual reality headset was developed with video games in mind, but is becoming a compelling possibility for filmmakers as well. A 360-degree interactive video of a live performance by Beck proves to be truly immersive, making the viewer feel as if he or she is on stage with the musician. Makers of the Rift took to this year's Sundance Film Festival to interact with filmmakers and see how the virtual reality technology can potentially be used in cinema.
Wired contributor Angela Watercutter describes the experience of watching the Beck performance of "Sound and Vision" in a test at Sundance's New Frontier installation: "People are cheering and taking photos. It's incredible. Then I look down. Instead of seeing knees or feet, I see Beck's Chelsea boots. That's when my brain reminds me I'm not actually on stage."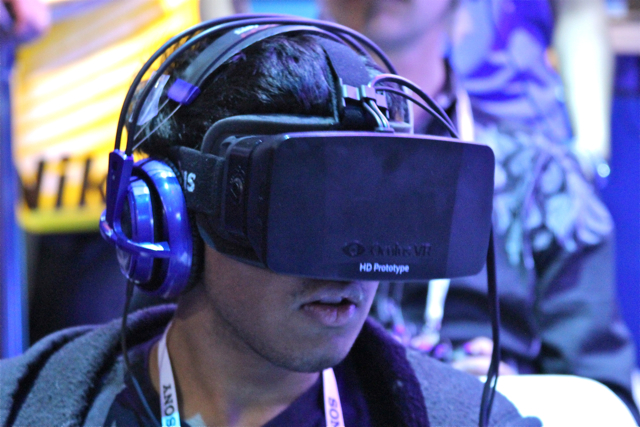 Nate Mitchell, Oculus' vice president of product tells Wired that the first time he tested the Beck concert in VR, "it fundamentally changed the way I thought about, frankly, audio in VR and the impact a live concert could have on me in virtual reality."
Mitchell says games are Oculus' passion, "but when you take it and show it to people here, they're like, 'I have something. I have an idea and I want to take people someplace new.'" The technology could have a significant impact on how stories are told — opening up possibilities not just for concerts, but also for documentaries and CGI.
"Mitchell and Oculus product lead Joe Chen, who brought Oculus to Sundance, said they've seen an uptick in the last six to eight months in the number of people in the film industry interested in how the VR headset could be used for movies," Wired reports. "Gravity" director Alfonso Cuarón was apparently one of them, and Mitchell notes the Oscar-nominated film would be perfect for virtual reality.
Topics:
Academy Award
,
Beck
,
CGI
,
Cinema
,
Concert
,
Doc
,
Documentary
,
Environment
,
Festival
,
Film
,
Filmmakers
,
Gamer
,
Games
,
Gaming
,
Gravity
,
Headset
,
Immersive
,
Installation
,
Interactive
,
Live
,
Mitchell
,
Motion Picture
,
Movies
,
Music
,
Musician
,
New Frontier
,
nominee
,
Oculus
,
Oscar
,
Perform
,
Reality
,
Rift
,
Sound and Vision
,
Sundance
,
Video
,
Videogames
,
Virtual
,
Watercutter
,
Wired