Walmart launched Delivery Unlimited, which offers consumers a subscription grocery delivery service for $98 per year or $12.95 per month, with a 15-day trial period. Per-order fees run $9.95 or less. The new subscription service is priced competitively, with Shipt and Instacart charging $99 per year. Prime Now costs $119 per year, but touts all of the benefits of Amazon Prime, including fast shipping and streaming media content. Target, which bought Shipt, now offers shoppers same-day delivery and a first-time $9.99 per order fee.
TechCrunch reports that Walmart hasn't formally announced Delivery Unlimited and hasn't yet made it clear where Delivery Unlimited is available, although an earlier Instagram post suggests that "a single Walmart store in Utah … [was] likely one of the earlier test markets." Walmart told TechCrunch, "the pilot is running across a few U.S. markets: Houston, Miami, Salt Lake City, and Tampa. Pricing is being tested and may change, it says."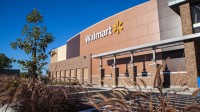 Currently, the store offers grocery pickup at 2,450 locations and delivery at "nearly 1,000 locations." It stated that by end of 2019, pickup locations will rise to 3,000 and delivery to 1,600.
Walmart "partners with delivery providers across the U.S., including Point Pickup, Skipcart, AxleHire, Roadie, Postmates and DoorDash." The company has also tried out (and ended) relationships with Deliv, Lyft and Uber. According to Walmart, online grocery sales have jumped 39 percent in Q1, "with earnings per share of $1.13 versus $1.02 expected, and revenue of $123.93 billion above the $125.03 billion estimated."
Business Insider reports that, "Target's revamped same-day shopping service won't require a Shipt account." It also notes that Target previously tried same-day delivery when it acquired Shipt for $550 million in 2017. "In January, Target expanded its Shipt service to include all major product categories," and now shoppers can order 65,000 items for same-day delivery from the store's online site.
The company reports, "one out of five of its same-day orders were placed by customers who'd never put in a digital Target order before," with repeat rates of "nearly 80 percent for its three same-day services" in Q1.
Same day deliveries will be available in 47 states and at 1,500 stores, but the service won't be added to the app until "some time before the 2019 holiday season." Target shoppers can also pay $49 per year for a Shipt annual membership fee (ordinarily $99 per year) via Target. Shoppers with a Target REDcard can "snag rewards and get 5 percent off their orders." REDcard also offers "free order pick-up and drive-up services and free two-day shipping and restocking."
Target digital senior vice president Dawn Block noted that same-day delivery through the Target website has made it "even easier for our guests to shop at Target — while still getting the great value, curated product assortment and helpful guest service they've come to expect."
Topics:
Amazon
,
Amazon Prime
,
Apps
,
AxleHire
,
Dawn Block
,
Deliv
,
Delivery
,
Delivery Unlimited
,
DoorDash
,
E-Commerce
,
Groceries
,
Grocery Delivery
,
Instacart
,
Instagram
,
Lyft
,
Point Pickup
,
Postmates
,
Prime Now
,
Retail
,
Roadie
,
Same-Day Delivery
,
Shipping
,
Shipt
,
Skipcart
,
Streaming
,
Subscription
,
Target
,
Target REDcard
,
Uber
,
Walmart