In 2020 Amazon spent $11 billion on Prime services content, up 41 percent from the $7.8 billion it spent in 2019. The sum includes licensing and production costs and costs related to digital subscriptions and content it sells and rents. The first season of its "Lord of the Rings" TV show reportedly cost $465 million to produce. However, Amazon canceled the "Lord of the Rings" online role-playing game announced in 2019. The huge sums Amazon is putting into content reflects its desire to dominate global digital entertainment.
Variety reports that, "while Amazon didn't provide a breakdown between video and music spending, the numbers show it's upping the ante to compete with rivals including Netflix," which spent $11.8 billion on a cash basis on streaming content in 2020, compared with $13.9 billion in 2019.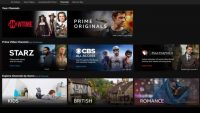 Company founder Jeff Bezos stated that Amazon now has 200 million global Prime members, up from 150 million in January 2020. The company did not "break out the number of Prime members by country or region, nor has it revealed specific numbers about Prime Video viewership." In the U.S., "Amazon Prime costs $119 per year or $12.99 per month."
In 2020, Amazon's revenue "increased 38 percent to a record $386.1 billion … [and] net income nearly doubled to $21.3 billion compared with net income of $11.6 billion in 2019." In another deal inked last month, Amazon gained exclusive rights to NFL's "Thursday Night Football," starting in 2023.
The Verge reports that, with regard to the $465 million price tag to produce the first season of Amazon's "The Lord of the Rings," New Zealand's minister for economic development and tourism Stuart Nash stated, "this will be the largest television series ever made." In 2017, Amazon spent $250 million for the rights to the franchise, which created a lot of buzz then that it would be "the most expensive" TV production in history.
In comparison, "the final and most expensive season of that other fantasy TV series, 'Game of Thrones,' cost just $90 million, or $15 million per episode … [and] Disney spent 'around 100 million' on the first season of 'The Mandalorian'."
The Verge notes that, "with a net worth of $193 billion, Amazon's (outgoing) [chief executive] Jeff Bezos can personally ensure the series goes there and back again (and again and again and again) for some 400 seasons before things start to get a little tight."
Bloomberg reports that Amazon Games, with China-based Leyou Technologies Holding (purchased by Tencent Holdings in December) pulled the plug on their "Lord of the Rings" video game. Sources said that, when Tencent acquired Leyou, "the resulting contract negotiations led to a dispute … that eventually caused the game's cancellation."
An Amazon spokesperson stated, "we have been unable to secure terms to proceed with this title at this time." Amazon Games "has been unable to release a successful video game since launching in 2014."
Topics:
Amazon
,
Amazon Games
,
Amazon Music
,
Amazon Prime
,
Disney
,
Game of Thrones
,
Jeff Bezos
,
Leyou Technologies
,
Licensing
,
Lord of the Rings
,
Music
,
Netflix
,
NFL
,
Prime Video
,
Production
,
Stuart Nash
,
Tencent Holdings
,
The Lord of the Rings
,
The Mandalorian
,
Thursday Night Football
,
Video
,
Video Games