Amazon's new Fire smartphone features sensors and front-facing cameras that provide a different perspective depending on how users hold, view or move the phone, leading to the expectation that it should increase demand for 3D applications. This 3D display tech is called dynamic perspective. Mobile software developers are hoping that Amazon's advertising efforts and massive scale will promote 3D more successfully than other 3D phone makers have in the past.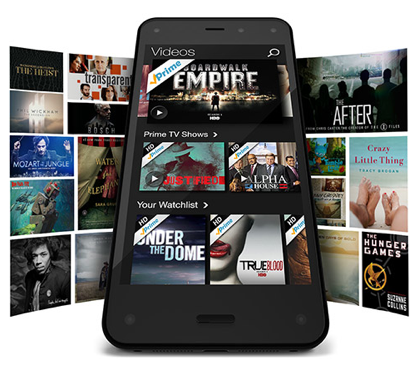 "Four sets of cameras and infrared lights track users' motions with special software — letting players zoom into games like the upcoming 'Saber's Edge' by bringing their heads closer to the screen or peek into a map in Yelp Inc.'s app to view ratings," reports Bloomberg.
"Experience interactions not possible on other smartphones," explains the Fire product page in regards to dynamic perspective. "Tilt, auto-scroll, swivel, and peek to navigate menus and access shortcuts with one hand. Dive into a new class of immersive apps and games — peek to see detailed views of clothing, shoes, and more in the new Amazon Shopping app for Fire phone, or take on a character's viewpoint to see around corners and obstacles in games."
"A company like Amazon, they know how to sell products," said Mel Kirk, VP of game developer Zen Studios. "That creates a great ecosystem and a great environment." 
Consumers that use Amazon also have a tendency to spend more than those that use Android to purchase apps. According to Backflip Studios, these Amazon customers spend 50 percent more on in-game features.
"We wanted to be part of the early adopters for this device, because we think it has a lot of potential," said Chris Goody, gameplay engineer at Backflip. "We don't jump at every opportunity. Amazon has the promotion capability to sell a ton of these devices."
Topics:
3D
,
Advertising
,
Amazon
,
Android
,
App
,
Application
,
Backflip Studios
,
Camera
,
Chris Goody
,
Developer
,
Dynamic Perspective
,
E-Commerce
,
Fire
,
Game
,
Hardware
,
HTC
,
LG
,
Marketing
,
Mel Kirk
,
Mobile
,
Navigation
,
Phone
,
Retail
,
Saber's Edge
,
Scale
,
Sensor
,
Smartphone
,
Software
,
Yelp
,
Zen Studios