Yesterday, we reported two stories related to Verizon's acquisition of Intel's OnCue cloud-based TV platform. In our reporting we noted that a number of companies were believed to be developing Internet TV services, including Amazon, which was reportedly working on a set-top box for delivering streaming video. In response to multiple reports from leading news publications, Amazon reps made a public statement denying any plans the company is rumored to have regarding an Internet TV initiative.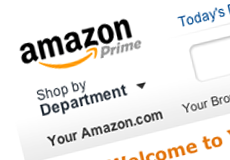 "We continue to build selection for Prime Instant Video and create original shows at Amazon Studios, but we are not planning to license television channels or offer a pay-TV service," wrote Amazon spokesman Drew Herdener in an email to USA Today.
"Prime Instant Video is Amazon's video-on-demand service which is free for members of the company's Prime shipping subscription plan. It has thousands of movies and TV shows available to stream online, competing with Netflix," notes the article. "Online video services like these do not offer live TV programming, especially not major sporting events, partly because the media companies that own the rights to such content are reluctant to release it on the Web."
Amazon's response stems from an article in The Wall Street Journal claiming that the online retailer was approaching entertainment companies about licensing TV channels for "a possible new online pay TV service, in what would be a significant expansion of the company's online video efforts." WSJ suggested the service would offer live TV channels in addition to the on-demand content already available through Prime.
"Though it appears live content will not be a part of the equation, there was no mention from Amazon in the USA Today article as to whether reports of the streaming box are also mere myth," notes Digital Trends. "The proposed box wouldn't be the first time Amazon stepped into hardware, and in the light of successes from other tech giants like Apple and Google, it makes sense that Amazon would try and cash in."
As we reported yesterday, the deal with Intel for the OnCue system is expected to help Verizon expand its own video services. Meanwhile, Sony is expected to test a cloud-based TV service later this year and Apple has been approaching content companies to pitch its own solution.
Topics:
Acquire
,
Amazon
,
Apple
,
Cable
,
Channel
,
Cloud
,
Deal
,
Film
,
Google
,
Herdener
,
Instant
,
Intel
,
Internet
,
License
,
Live TV
,
Movie
,
Netflix
,
News
,
OnCue
,
Pay TV
,
Plans
,
Prime
,
Program
,
Purchase
,
Report
,
rumor
,
Series
,
Show
,
Sony
,
Sports
,
Statement
,
STB
,
Stream
,
Streaming
,
Studios
,
Subscribe
,
Subscription
,
Television
,
TV
,
USA Today
,
Verizon
,
Video
,
VOD
,
Wall Street