Several countries have launched "graduated response" initiatives in an effort to reduce online piracy, but new findings from U.S. and French researchers suggest the measures do not have the intended effect. Last year, the U.S. implemented its six-strikes system to warn infringing file-sharers, and then penalize them after multiple warnings. Although the penalties range from a fine to a prolonged Internet disconnection, the study suggests this does not prevent piracy.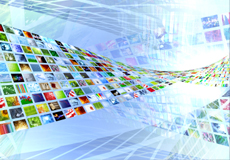 "In France, New Zealand, Taiwan and South Korea strikes schemes are baked into law, a similar policy is in place in Ireland, and last year the United States rolled out its voluntary 'alert' system commonly known as six-strikes," reports TorrentFreak.
However, the paper published by U.S. and French researchers indicate that the three strikes law in France did not stop or reduce piracy.
"In 2009, France implemented the Hadopi law," according to the abstract for the study. "Under this law individuals receive a warning the first two times they are detected illegally sharing content through peer to peer (P2P) networks. Legal action is only taken when a third violation is detected."
"Our theoretical model of illegal behavior under a graduated response law predicts that the perceived probability of detection has no impact on the decision to initially engage in digital piracy, but may reduce the intensity of illegal file sharing by those who do pirate. We test the theory using survey data from French Internet users. Our econometric results indicate that the law has no substantial deterrent effect."
TorrentFreak says the main problem with the strikes systems is that they only address P2P file-sharing, and not any of the other ways people download pirated material. This allows file-sharers to switch to unmonitored services, including direct download sites and newsgroups, to continue their illegal activity.
"There is evidence that the law encourages Internet users who better understand the law and alternative piracy channels (those with many digital pirates in their social network) to substitute away from the monitored P2P channel and to obtain content through unmonitored illegal channels," note the researchers.
Since the researchers found the ineffectiveness of three strikes anti-piracy laws in France, they assume that the six strikes anti-piracy program in the U.S. will also be ineffective.
Topics:
Alert
,
Anti-Piracy
,
Channel
,
Copyright
,
File
,
File Sharing
,
France
,
Graduated
,
Hadopi
,
Illegal
,
Infringe
,
Infringement
,
Internet
,
Ireland
,
Law
,
Legal
,
Network
,
New Zealand
,
Newsgroup
,
Online
,
P2P
,
Paper
,
Peer
,
Penalty
,
Piracy
,
Punish
,
Research
,
Response
,
Share
,
Sharing
,
South Korea
,
Strike
,
Study
,
Survey
,
System
,
Taiwan
,
TorrentFreak
,
United States
,
Warn
,
Warning