Amazon unveiled the Dash Cart this week, a "smart" grocery shopping cart fitted with a touchscreen that can automatically detect the items placed in it. The shopper can then take the Dash Cart through a special lane to digitally check out via a combination of computer vision algorithms and sensors. The Dash Cart is the result of Amazon's aim to apply everything it's learned in building its Alexa-enabled products to create more convenience in the brick-and-mortar world. The Dash Cart will first be deployed in Amazon's grocery store in Woodland Hills, a Los Angeles suburb.
The Verge reports that the Woodland Hills store is not one of the company's Amazon Go stores that are outfitted with cameras and sensors for "automatically detecting items you take off the shelves." Rather, "this is your standard, everyday grocery store … [which] joins Amazon's network of existing Whole Foods locations and its larger-format Amazon Go grocery store that opened in Seattle back in February."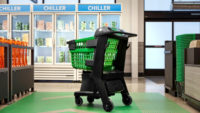 The store is open for online grocery orders but hasn't yet opened to the public; Amazon said it will do so later this year.
Currently, the Dash Cart can handle "about two bags of items, but it can't do a full cart quite yet." The Woodland Hills store, therefore, will have standard grocery store carts and checkout lanes for those shopping for more than the Dash Cart can handle. The Verge questions why "Amazon is opting for a more traditional store, given its more than two dozen Go stores and a planned second Go Grocery in the works for the Redmond area of Washington."
"It could be that the Go model is hard to scale at the size necessary for a full-service grocery store," it says. "There's also the privacy question, and whether the Go format's tracking and surveillance approach is maybe not as palatable as a smart shopping cart a consumer must opt in to use."
"[The Dash Cart] has a ring of cameras, a scale, and computer vision and weight sensors to determine not just the item, but the quantity of the item," said Amazon VP of physical retail and technology Dilip Kumar. The touchscreen allows the shopper to "input the price look-up code of the item before you place it in the cart to be weighed and added to your order."
Shoppers must first sign into their Amazon smartphone accounts and scan it at the beginning of the grocery trip. Other hardware includes a built-in coupon scanner; the cart also "supports Amazon's Alexa shopping lists feature." Amazon hasn't stated whether the Dash Cart will appear in other stores, "but there is a good chance that, in the event the Dash Cart is a hit among consumers, Amazon could be rolling this out elsewhere."