As COVID-19 keeps schools and businesses shut down, Microsoft has unveiled updates for its video communication platform Teams to help online meeting participants feel more connected. One such feature is Together Mode, which lets participants set the call to a shared background image so everyone feels a bit more like they're sitting in the same room. The genesis of the feature came when Stanford University professor Jeremy Bailenson realized how fatiguing videoconferences could be, and contacted his friend, Microsoft Research scientist Jaron Lanier. Teams is also adding emoji, video filters, and integration of Tasks and Cortana.
Engadget reports that the new Teams feature "reportedly helps people focus on the nonverbal cues of the other folks on the call." Microsoft is also unveiling Dynamic View, "which gives call moderators more control over how shared content is displayed during a meeting by automatically optimizing the featured content and participants."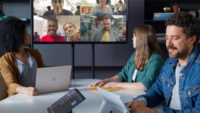 Teams will "now host a variety of Instagram-esque photo and video filters as well as reaction emojis," since nonverbal cues can be hard to read in a virtual meeting. The company is also introducing a "Reflect messaging extension which will enable teachers and managers to check-in with their subordinates with poll questions."
Tom's Guide reports that Microsoft Team's new updates might "leave Zoom quaking in its videoconferencing boots." In addition to Together Mode, it notes that new features include "live reactions, live transcription with speaker identification and an integrated task app." Together Mode, it notes, "uses AI segmentation to make you feel like you're sitting in the same room as your meeting collaborators."
When someone speaks, heads turn towards the speaker, "creating a more natural eye gaze." According to Microsoft, it will also "be easier for people to take turns speaking." Also new, "chat bubbles appear in a participant's grid window to show what they typed, while suggested replies make chatting easier and faster." Microsoft also debuted "the deep integration of the Tasks app and the voice assistant Cortana in Teams." The new features join other recent updates, such as increasing the number of participants in a video call to 49.
Microsoft reports on the genesis of Together Mode. After Stanford's Bailenson, an expert in digital communications, found just how "intense and exhausting" video calls could be, he contacted Lanier, who was researching the same problem. "It was a fortuitous coincidence of needs," said Lanier.
Together Mode's foundation was the work that software engineer Henrik Turbell did seven years ago, with researcher Jamie Shotton's team at Microsoft's Cambridge, U.K. lab on "the future of video segmentation." Software engineers, Turbell, David Zhao and Walid Boumerdassi built a Together prototype together in one weekend, "relying heavily on the work they'd done two years ago for a Microsoft Hackathon project."
Topics:
Artificial Intelligence
,
Coronavirus
,
Cortana
,
COVID-19
,
David Zhao
,
Emoji
,
Filters
,
Google Tasks
,
Hackathon
,
Henrik Turbell
,
Instagram
,
Jamie Shotton
,
Jaron Lanier
,
Jeremy Bailenson
,
Microsoft
,
Microsoft Research
,
Microsoft Teams
,
Segmentation
,
Stanford University
,
Video
,
Videoconferencing
,
Walid Boumerdassi
,
Zoom