Your smartphone creates data constantly, and now a few companies are leveraging it to give Wall Street traders a leg up on market movements. So-called alternative data includes a range of information, from credit-card charges to construction permits. Thasos is one of the leading companies reaping such data from about 1,000 apps, which share the user's location. Beginning this month, AI-based data analytics firm Thasos Group will offer its data through Bloomberg terminals. Company founder/chief executive Greg Skibiski calls the smartphone a "beacon."
The Wall Street Journal reports that the data through the Bloomberg terminals will include "a measure of mall foot traffic," and, for an extra charge, "detailed daily feeds about malls owned or operated by 30 large real-estate investments trusts." Before Thasos gets the data, "suppliers scrub it of personally identifiable information," leaving only "time-stamped strings of longitude and latitude."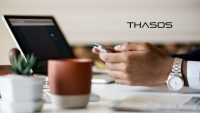 But calculating that data from more than 100 million phones "can paint detailed pictures of the ebb and flow of people, and thus their money," says Skibiski. "You can look at this blood flow of people moving around," noted MIT computer scientist Alex "Sandy" Pentland who also helped found Thasos.
Whether or not alternative data helps investors is unclear. According to critics, "samples can be riddled with biases and errors … [and] most data is fairly useless for predicting stock prices." Thasos' point of view is that it can "count the phone-carrying shoppers who ditch their regular grocers when a new Whole Foods opens, or gauge drilling activity by sizing up the crowds at oil-patch bars." Skibiski notes that the company already sells data to "dozens of hedge funds, some of which pay more than $1 million a year," but will not name any of them.
The New York-based company's largest investor is "Ken Nickerson, who helped build PDT Partners into a quantitative-investing mint inside Morgan Stanley." After Skibiski got the idea behind Thasos, he sought out Pentland, an expert in geo-location, and the two started Sense Networks. With smartphones, "location data was no longer controlled by a few carriers" and was more accurate, which led the two to form Thasos.
"We knew the customers were going to be hedge funds," said Skibiski, who said their first step was to have hedge-fund lawyers "set up the company as a legal entity to pass compliance."
The mode is similar to census data, which is "detailed enough to have value, but not so detailed that individuals can be identified." In the future, Thasos has set its sights on currency traders, urban planning and disaster recovery.  For the latter, said Pentland, information on the percentage of people who fled Hurricane Florence in different neighborhoods "could inform disaster response or infrastructure spending, yet it might also have commercial value."
Topics:
Alex Pentland
,
Alternative Data
,
Analytics
,
Apps
,
Artificial Intelligence
,
Bloomberg
,
Currency
,
Finance
,
Geo-Location Data
,
Greg Skibiski
,
Hedge Funds
,
Hurricane Florence
,
Ken Nickerson
,
Malls
,
MIT
,
Mobile
,
Morgan Stanley
,
New York
,
PDT Partners
,
Real Estate
,
Sense Networks
,
Smartphones
,
Thasos
,
Wall Street
,
Whole Foods