Advanced Micro Devices (AMD) debuted Zen 2 processor architecture, a follow-up to the Zen design introduced in March 2017, to be launched beginning in 2019. AMD chief executive Lisa Su said the Zen 2 doubles performance of the first Zen generation, which itself could process 52 percent more instructions per clock cycle than its previous generation. The company hopes its new processors will help it surpass or at least maintain parity with Intel processors. AMD is also relying on new chiplet design to maintain growth.
VentureBeat reports that, "Zen has spawned AMD's most competitive chips in a decade, including Ryzen for the desktop, Threadripper (with up to 32 cores) for gamers, Ryzen Mobile for laptops, and Epyc for servers." Zen 2 cores will be part of "future models of those families of chips," and become AMD's "next-generation system architecture."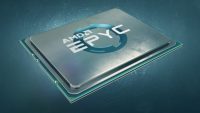 Su noted that Zen 2 chips will be made via 7-nanometer manufacturing and are "targeted for the workloads of the future, including machine learning, big data analytics, cloud, and other tasks."
VB says the Zen-based chips can be found in the offerings of "every major computer maker." AMD is also aiming at the data center market, which will be valued at $29 billion by 2021. AMD chips are currently "feeding chips to data centers that run cloud deployments for Microsoft, Baidu, Tencent, Oracle, and others," and Amazon Web Services revealed its Amazon Elastic Compute Cloud will use AMD Epyc CPUs.
AMD chief technology officer Mark Papermaster noted that Zen 2 chips execute on the company's "holistic design approach … sampling today at 7-nanometer manufacturing, compared to the shipping 14-nanometer Zen processors that debuted in 2017." Intel has "delayed its equivalent chips, dubbed 10 nanometer but at the same technology level, until late 2019."
Zen 2 "also has better 256-bit load/store floating point processing, or double the previous generation" and will have "stronger built-in security, where data can be fully encrypted as it is transferred to memory."
Wired reports that, as the chip industry can no longer keep up with Moore's law, it is turning to new technology dubbed "chiplets," which are assembled from smaller pieces of silicon. AMD, Intel and the Pentagon are focused on chiplets to "keep computers improving at the pace Moore's law has conditioned society to expect."
Chiplets will underlie "new artificial-intelligence-powered services such as Google's Duplex" and "also provide a way to minimize the challenges of building with cutting-edge transistor technology," as well as be "inherently less prone to manufacturing defects."
Intel plans to release a mobile PC processor that "combines an Intel CPU with a custom-designed graphics module from AMD," the first time the company has "packaged a core from another company into its main line of PC processors."
Topics:
Advanced Micro Devices
,
Amazon Web Services
,
AMD
,
Artificial Intelligence
,
Baidu
,
Big Data
,
Chiplets
,
Cloud
,
Data Centers
,
Epyc
,
Floating Point Processing
,
Google Duplex
,
Intel
,
Lisa Su
,
Machine Learning
,
Mark Papermaster
,
Microsoft
,
Moore's Law
,
Oracle
,
Ryzen
,
Ryzen Mobile
,
Tencent
,
Threadripper
,
Zen 2
,
Zen Chips