Chinese online-commerce company Alibaba is the latest tech firm to target the living room, with its new smart TV operating system and a set-top box. The company joins a crowded group that includes Apple, Lenovo, Samsung and others that are exploring the emerging market. Alibaba plans to integrate its Alipay electronic-payment service into the TV software. The company cited declining growth of PC use in China as a motivation for the move into TVs.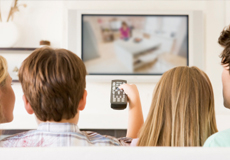 "Usage on mobile phones and TVs is the next trend," said Alibaba Vice President Yu Ce at a press conference yesterday. "Alibaba will not give up in these two areas."
"Executives displayed software that allows a viewer to flip through programming or purchases on screen using a remote control, mouse or smartphone," reports The Wall Street Journal. "The system also uses so-called QR codes, checkered squares that can be read by smartphones, to log on to the system."
Alibaba is teaming with Chinese manufacturers Skyworth Digital Holdings, Sichuan Changhong Electric and Qingdao Haier to build smart TVs. It developed its set-top box, expected to be released in the next few months, with Wasu Media Holding. The company also said that it is in discussions with Cisco Systems regarding the TV's operating system.
"Alibaba has begun exploring mobile and other platforms ahead of an initial public offering of stock that is expected to be the biggest since Facebook Inc.'s last year," notes the article. "Bankers expect the IPO will come as soon as year-end."