Some believe that 3D printing is being held back due to patents. But that will change in February 2014, when key patents for advanced 3D printers that are averting competition will expire, according to Duann Scott, with the 3D printing company Shapeways. 3D printing for inexpensive and finished goods will be more available to users, and the release of protected patents will be an important step for personalized manufacturing.
These patents are for "laser sintering," which is the lowest cost 3D printing technology. It also offers high-resolution fabrication, and can produce items that have finished goods quality.
When the patent for 3D printing using laser sintering expire, there could be major price reduction for these devices, says Scott. Previously, when key patents expired on an early method of 3D printing called fused deposition modeling (FDM), there was a burst of open-source FDM printers.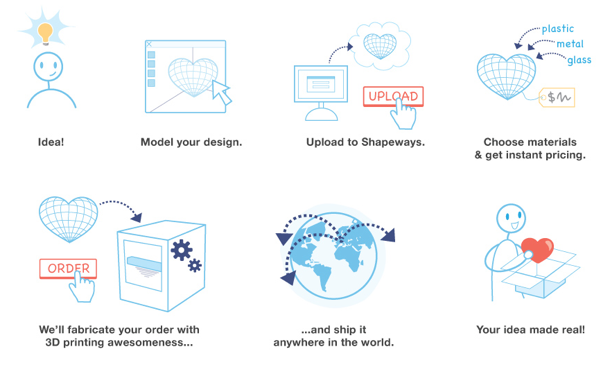 "Within just a few years of the patents on FDM expiring, the price of the cheapest FDM printers fell from many thousands of dollars to as little as $300," reports The Atlantic. "This led to a massive democratization of hobbyist-level 3D printers and injected a huge amount of excitement into the nascent movement of 'Makers,' who manufacture at home on the scale of one object at a time."
Many of those inexpensive 3D printers are being made in China. Along with an increasing domestic 3D printer industry, in 2012 China's Ministry of Industry and Information Technology launched a $32 million initiative to finance ten research centers focusing on 3D printing.
3D printing was to bring a revolution of cheap manufacturing to desktop 3D printers, yet these devices have not moved beyond novelty. But the removal of patent restrictions may open the field to inexpensive, high quality finished 3D printing.
If someone wanted high quality 3D printing, they could go to a company such as Shapeways, but due to demand, there is a two-week wait time. As an alternative, an individual can buy a cheap desktop laser sintering 3D printer for $3,300 from Formlabs, and make items themselves.
Topics:
3D
,
3D Printer
,
3D Printing
,
China
,
Chinese
,
Competition
,
Desktop
,
DIY
,
FDM
,
Forecast
,
Formlabs
,
High Resolution
,
Hobbyist
,
Makers
,
Manufacturing
,
Patent
,
Quality
,
Shapeways
,
third dimension