Dish subsidiary AirTV just launched a new device, also dubbed AirTV, that lets its subscribers watch free live content from broadcast networks, including ABC, NBC, CBS, PBS and Fox, on TVs and mobile devices. AirTV is a networked tuner that comes with Wi-Fi and Ethernet connectivity. Priced at $120, AirTV also comes with a $25 credit for Dish's Sling TV streaming service, which mainly provides access to cable channels. With AirTV, Sling TV subscribers can access over-the-air channels via their Sling TV app.
Variety reports that "consumers who don't want to subscribe to Sling TV can also opt to watch their AirTV's local broadcast feeds in a dedicated AirTV mobile app, or sign up for a free Sling TV account without paying for any of the service's bundles." Because AirTV integrates two TV tuners, "households can watch two separate programs simultaneously."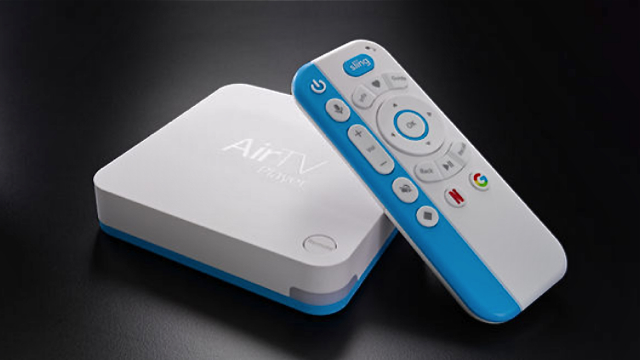 The device will not immediately have a DVR, but Dish stated the functionality will be added later this year, enabling consumers to attach an external hard drive to record broadcast TV and then access their recordings in the service's app. Other companies that have offered networked tuners include HDHomeRun and Tablo.
Multichannel News reports that AirTV users in some metro markets will have access to "50 or more digital channels," including the New York area that offers 72 OTA channels in SD and HD. Dish "originally introduced AirTV late last year in a limited soft launch of the device to test consumer interest."
In addition to accessing OTA content via the Sling app, consumers can also use the AirTV app on Roku, Amazon Fire TV, and iOS and Android phones and tablets. Users also have to buy an antenna which, said AirTV director of product development Mitch Weinraub, they can mount "wherever the signal is strongest, whether it's tucked away in an attic or hidden behind the living room TV."
With AirTV, consumers don't need to run cables around the home or wire multiple rooms with individual antennas, Weinraub noted. He also pointed out that pay TV subscribers pay $10 to $15 per month for broadcast channels, whereas AirTV has no monthly fee. AirTV also "helps Sling TV avoid retransmission consent fees [since] the national service has no carriage deals with local broadcast channels."
The AirTV device is on sale on the Amazon and AirTV websites as well as through regional retailers like Micro Center. Weinraub said the company is in talks with Best Buy "and hopes the equipment will be available through their stores soon."
Topics:
ABC
,
AirTV
,
Amazon
,
Amazon Fire TV
,
Android
,
Antenna
,
App
,
Best Buy
,
Broadcast
,
CBS
,
Dish
,
DVR
,
Ethernet
,
FOX
,
HDHomeRun
,
iOS
,
Live TV
,
Local Broadcast Stations
,
Micro Center
,
Mitch Weinraub
,
Mobile App
,
NBC
,
New York
,
OTA
,
Pay TV
,
PBS
,
Retransmission Fees
,
Roku
,
Sling TV
,
Streaming
,
Subscription
,
Tablo
,
Television
,
Tuners
,
Wi-Fi