Nintendo just debuted Switch, a console/handheld hybrid that is the company's next videogame platform. The system, which has been in development since March 2015 and will be available for sale March 2017, can be used for TV gaming or as a portable gaming system, depending on the configuration of its tablet-like device and dock. Minus the tablet, the system becomes portable, with mini joysticks that can be wireless or attached to the sides. Nintendo also says it will soon reveal titles, game demos, and prices.
According to The Wall Street Journal, Nintendo says that, "dozens of publishers and other gaming companies are supporting Switch," including Activision Blizzard, Electronic Arts, and Take-Two Interactive Software. Part of the company's strategy is to target e-sports fans. Experts consider whether or not the new console will have disappointing sales, much like Nintendo's Wii U machine, which sold a mere 13 million units by June (versus Sony's 40 million PlayStation 4 units).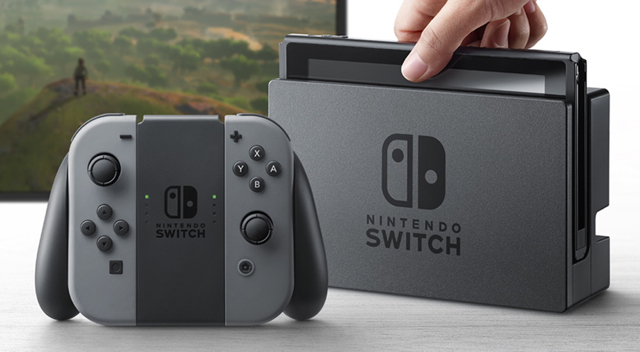 "Another flop in launching new hardware should be a sign that Nintendo is better off providing its rich game title franchises to smartphones, Sony and Microsoft," said game consultant Serkan Toto. "Known for its fortress-like mentality," Nintendo is trying to partner with companies that "can help promote its characters," including a smartphone game featuring Mario the plumber that it jointly announced with Apple.
The company has also teamed with Universal Parks & Resorts on theme park projects, and is allowing amateurs to create games for Nintendo platform, a marked change in attitude. Although Nintendo is "playing to its strength in the handheld market," research firm IHS notes that this market was valued at $3.3 billion last year compared to $26 billion on mobile game apps.
Wired explains that, with Switch, "Nintendo's home and portable game libraries will now be combined into one single platform… Nintendo can just create one game that's played by everyone. And you don't have to buy two pieces of Nintendo hardware to enjoy all the company's games, anymore."
The games that will be available for Switch include "The Legend of Zelda: Breath of the Wild," "Skyrim," "Mario Kart 8," "Super Mario," "Splatoon," and, most likely, Ubisoft's "Just Dance." In addition to buying games digitally on Switch, users will be able to buy games "on tiny cards about the size of a 3DS game cart."
Wired notes that Nintendo is "publicly touting" Switch's hardware, which includes an Nvidia Tegra high-performance mobile gaming chip. "The high-efficiency scalable processor includes an Nvidia GPU based on the same architecture as the world's top-performing GeForce gaming graphics cards," Nvidia wrote on its blog.
Topics:
Activision Blizzard
,
Apple
,
Electronic Arts
,
eSports
,
Game Console
,
Gaming
,
IHS
,
Just Dance
,
Mario Kart
,
Microsoft
,
Mobile
,
Nintendo
,
Nintendo NX
,
Nintendo Wii U
,
Nvidia
,
Nvidia GeForce
,
Nvidia Tegra
,
PlayStation
,
Serkan Toto
,
SkyRim
,
Smartphones
,
Sony
,
Super Mario
,
Switch
,
Take-Two Interactive
,
The Legend of Zelda
,
Ubisoft
,
Universal Parks & Resorts