Facebook is debuting Live video scheduling, scheduled broadcast sharing, and pre-broadcast lobbies to verified Pages, with the goal of expanding these features to all Pages in the next weeks and eventually to developers of third-party Live API tools. With this new move, creators will be able to create a link a week in advance, which should spur bigger audiences for Live streams. Elsewhere, Facebook is introducing a new feature on Messenger that suggests "conversation topics" for friends.
TechCrunch reports that, "scheduling a broadcast triggers a News Feed post where potential viewers can opt to get a one-time notification reminding them that the stream is starting."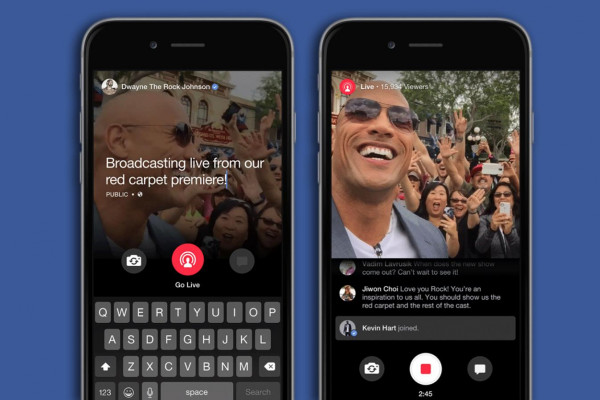 Content creators' Page administrators can schedule a broadcast by going to "Publishing Tools," then "Video Library," then "Live." There, they "copy their stream's credentials like a Steam key or server URL, write an announcement post for the scheduled broadcast, and publish the announcement to the News Feed." Broadcast links can also be embedded in blog posts, and viewers can "wait" in the lobby up to three minutes ahead of broadcast.
Facebook, which first announced this new "waiting room" feature in May, now has "a new advantage in its battle with Periscope and YouTube Live for stream creators and viewers," since "Facebook is pushing to make Live streaming a seamless part of every content producer and brand's marketing and distribution flow."
TechCrunch also reports on Facebook's new "conversation topics" on Messenger, which is currently only in a limited test. The conversation topics appear underneath a friend's name on a dedicated section on the home screen, and the "Messenger's activity indicator" shows "when the person was last online."
"The idea behind Conversation Topics is simple: if you're looking for a way to break the ice with a new Facebook friend or catch up with an old one, these conversation prompts can help you figure out what to talk about." The feature also lets users "catch up on friends' recent activity, without having to scroll through News Feed and its clutter of shared links, posts from Facebook Pages, ads, and other content."
In a similar move, Facebook has also introduced a feature dubbed Rooms, which "appears to be an attempt to build public chat rooms on Messenger's platform around shared topics and interests." This project, says TechCrunch, is likely tied to the company's earlier, now-defunct Rooms project, "which was an experiment in anonymized social networking on Facebook's part."