YouTube TV is rolling out a new feature aimed at live sports fans. Called "multiview," it lets people watch up to four different streams at once. Just in time for March Madness, multiview is debuting in early access to select U.S. subscribers and only for sports content, YouTube says, adding that it's exploring how to apply the quad-screen format across a variety of content and will gradually make it available to more users. Slow-walking the initial launch will allow the platform to collect feedback and improve the feature in time for the fall NFL football season.
"Over time, YouTube will also add more functionality to multiview, including the option to customize your own multiview streams," TechCrunch reports, noting that "it plans to expand multiview to the main YouTube app, as well."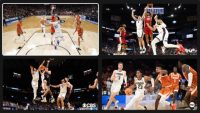 "YouTube TV is home for sports fans and we want to ensure that we offer our members the best sports viewing experience on TV," the company wrote in a blog post that referenced future improvements, "like key plays, fantasy view, 4K streaming and soon, NFL Sunday Ticket."
During early access, some members will see the multiview option to watch up to four pre-selected streams in their "Top Picks for You" section. After selecting multiview, viewers will be able to switch audio and captions between streams and jump in and out of a fullscreen view of a game, YouTube explains.
German Cheung, engineering lead for the YouTube TV core experience team, says the company has been working on the feature for some time.
"Typically, multiviewing requires a high-powered device, which means it is often limited to users who have specific equipment," Cheung says on the YouTube blog, adding that "our goal was to ensure that it is accessible to users across all TV devices, regardless of their equipment, but to do that we needed to rethink how the technology works in the first place."
TechCrunch writes that while "some traditional TVs have offered a picture-in-picture mode to address this problem," YouTube TV's digital platform allows for more flexibility. Cheung says that YouTube drew on what had already been developed for YouTube Live, "a really powerful compositor to enable creators to go live together on YouTube" that provided "a lot of the tech required to build this great new feature."
Instead of relying on the end-user display devices to provide multiplex capability, "we moved the processing requirements to happen on our side, on YouTube's servers. This allows all subscribers to use the feature, regardless of their home equipment, because when it's streamed to them, their device sees only one live feed, instead of two or four," Cheung explains.
While The Verge notes that "if you want to watch CNN (or something like an awards show) alongside that sports content, it seems like that's not going to be in the cards for a while," Cheung adds that "over time, we'll refine and add more functionality to multiview, including the option to customize your own multiview streams."