YouTube has reimagined the remote control with a new feature that not only controls basic TV functions using an app, but lets users integrate more deeply with YouTube content — sharing videos, browsing and leaving comments, using Super Chat and Super Stickers and signing-up for channel memberships. YouTube on TV head of design Brynn Evans says the feature is the result of "hundreds of hours" researching user experiences with YouTube on televisions. Traditional remotes make it difficult to navigate on most TV sets, which typically don't have web browsers built in, Evans says.
Another complication is viewers generally "have less space to work with" since they're almost always "watching video in a full screen experience," Evans wrote in a blog post announcing the new product, titled "The Future of Interactivity in the Living Room." On June 1, YouTube began offering the new app, which "lets you effortlessly connect your TV to your iOS or phone, so you can dive deeper with your favorite content on YouTube while you watch on the big screen."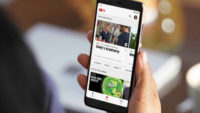 To use the new feature, the user's phone and TV must be signed in to the same YouTube account. The individual would then open the YouTube app on both his/her TV and phone, then click "Connect" on the auto prompt pop-up. This synchronizes the two devices "so you can directly interact with the video you are watching from the convenience of your phone," Evans writes.
"An easy way to think about the Connect feature is like Google Cast in reverse. Instead of using your phone as your TV remote, you can start the viewing process on your big screen and use your phone as a companion," writes TechCrunch, noting "for YouTube, it means not having to worry about whether your TV supports Cast or your Wi-Fi is configured correctly."
YouTube on TV director of product management Kurt Wilms says that "the beautiful thing about this feature is there's no protocols." Neither the TV nor the phone have to be connected on a Wi-Fi network because it's not the devices that are syncing, "it's your YouTube account across devices," TechCrunch quotes Wilms explaining.
According to Evans, company research revealed that "over 80 percent of people said they use another digital device while watching TV. When we dug into this further, we noticed that people were not only simultaneously opening the YouTube mobile app, but were also engaging with the video (e.g. liking, subscribing) via their phones — all while playing the same video on the TV."
With those insights in mind, "we stopped thinking about how to fit all these features into the big screen, and instead pivoted to think about how the phone can be more deeply connected to the TV experience overall," Evans writes.