Insiders say Yahoo has been working on a plan to attract some of YouTube's popular stars and networks by addressing the frequent complaints of video creators and owners who feel they do not make enough money on Google's video site. Yahoo reportedly hopes to launch its new video strategy in the next few months. Several industry sources say Yahoo execs have been promising better economics than YouTube, by improving ad revenue or by offering guaranteed ad rates.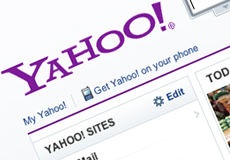 Yahoo has also offered extensive marketing and the option for producers to sell advertising along with Yahoo's sales force. "Yahoo Screen was part one," said one producer who has signed on for the new video initiative. "Now, this is part two."
"Yahoo CEO Marissa Mayer has been mulling how to have a much bigger presence in Web video," reports Re/code. "Under her leadership, the company tried and failed to buy France's DailyMotion and has been pushing a number of other high-profile media initiatives, such as adding television news star Katie Couric to its site."
"For now, at least, Yahoo isn't talking about replicating YouTube's open platform, which lets users upload 100 hours of content every minute to the site," notes the article. "Instead, it is interested in cherry-picking particularly popular, more professional YouTube fare."
However, Yahoo may open the platform further after the first year, said one insider.
"New YouTube head Susan Wojcicki has begun making overtures to its most high-profile producers, said sources, with an eye to making them happier," explains Re/code. "Wojcicki, who has been a prominent ad product exec at Google and one of its earliest employees, has deeper experience in generating revenue with a multitude of partners, and many are looking forward to seeing how she will change the service's offerings."
Topics:
Advertiser
,
Advertising
,
Business
,
Channel
,
Couric
,
Creator
,
Dailymotion
,
Force
,
Google
,
Internet
,
Launch
,
Marissa Mayer
,
Marketing
,
Money
,
Network
,
Online
,
Owner
,
Producer
,
Rates
,
Recode
,
Revenue
,
Sales
,
Screen
,
Star
,
Stream
,
Streaming
,
Talent
,
Television
,
TV
,
Upload
,
Video
,
VOD
,
Web
,
Yahoo
,
YouTube