Apple's annual Worldwide Developers Conference kicked off yesterday in San Jose, California. During his keynote, CEO Tim Cook noted that 5,300 developers from 75 countries were attending this year's conference. Among the more noteworthy announcements, Apple shared information regarding its High Sierra macOS update; iOS 11 with improved Siri (including language translation), iMessage features, and Core ML to make machine learning easier; a new 10.5-inch iPad Pro (starting at $649, available next week); a beefed-up iMac Pro; a completely redesigned App Store; and an Echo-like smart speaker called HomePod (shipping in December for $349).
According to The Wall Street Journal, the 7-inch voice-controlled HomePod speaker is about much more than music. "Inside, it has got the same brain as an iPhone 6, an array of six microphones to pick up your voice and its own connection to Siri," notes WSJ. "The HomePod isn't an accessory — it's a computer for your home."
Although a bit late to the game, Apple will be competing with other smart speakers such as Amazon Echo and Google Home, in addition to their AI-powered digital assistants.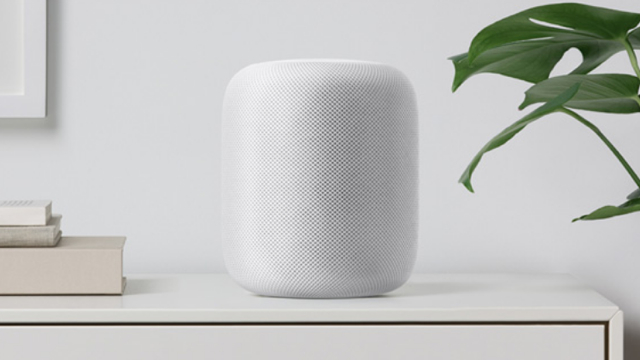 "Apple's key to catching up is Siri," suggests WSJ, noting the AI upgrades highlighted by Apple yesterday. "Siri will understand more context, even across multiple Apple devices."
In addition to HomePod, The Verge lists Apple's other most significant announcements:
iMac Pro introduced, alongside updated desktop specs
iOS 11 comes with improved Siri, automatic do not disturb driving mode, iMessage features
iOS 11 for iPad brings Windows-esque multitasking abilities
Apple lets developers make more immersive apps with ARKit
10.5-inch iPad Pro introduced
The new macOS is named High Sierra
watchOS 4 brings new Siri watchface, fitness coaching, and a new app-browsing UI
The upgraded App Store is getting "a new user interface and redesign whose aim is to help users better discover new applications and learn about how they're used, while offering developers a better way to feature their content and tell their stories," reports TechCrunch.
The new version is divided into five key areas and features a "Today" tab with regularly updated content such as App of the Day and Game of the Day for more of a real-time feel. Additionally, Apps and Games will now have their own tabs.
For a visual overview of Apple's product announcements, Recode has edited together a 6.5-minute supercut of Monday's 2+ hour presentation. For details on related announcements, check out the links below.
Related:
Apple Skips Usual WWDC Milestones, But Shares a Few Juicy Details, VentureBeat, 6/5/17
Apple Just Leveled Up the iPhone's Machine Learning Chops, VentureBeat, 6/5/17
Apple Debuts iMac Pro With Beefy Specs, Real Ports, $5K Starting Price, TechCrunch, 6/5/17
Apple Introduces the New iPad Pro With a 10.5-inch Screen and Thinner Bezels, TechCrunch, 6/5/17
Watch: Apple's New Video Depicts a World Without Apps – and It's Total Chaos, Recode, 6/5/17
Game Makers Applaud Apple's Support for AR and VR, VentureBeat, 6/5/17
Apple Will Likely Expand NFC Features Beyond Apple Pay With iOS 11, The Verge, 6/6/17
Apple Pay Takes On Venmo With Personal Money Transfers, CNET, 6/5/17
Topics:
Alexa
,
Amazon
,
App Store
,
Apple
,
Apple Pay
,
ARKit
,
Artificial Intelligence
,
Augmented Reality
,
Core ML
,
Developer
,
Digital Assistant
,
Echo
,
Game
,
Google Home
,
High Sierra
,
HomePod
,
iMac Pro
,
iMessage
,
iOS 11
,
iPad
,
iPad Pro
,
iPhone
,
Laptop
,
Machine Learning
,
macOS
,
Mobile
,
Music
,
NFC
,
Siri
,
Smartphone
,
Speaker
,
Tablet
,
Tim Cook
,
Venmo
,
Virtual Reality
,
Voice Control
,
watchOS 4
,
WWDC 2017