Apple unveiled a slew of new tech at WWDC 2022, previewing macOS Ventura, iOS 16, iPadOS 16, watchOS 9, the next MacBook Air with new M2 chip, the Apple Pay Later service, password updates, new security features and more. Propelled by the tagline "Personal is powerful," iOS 16 is crafted around helping customers create individual experiences, with ways to customize the Lock Screen, organize desktops and optimize video calls. The Stage Manager feature of macOS 13 Ventura allows easier multitasking and promises updates to improve Spotlight and Apple Mail. Safari is substituting "passkeys" for passwords, allowing users to login to websites using their iPhones or Macs.
Coming later this year, Apple will introduce something called Continuity Camera, which allows iPhones to function as webcams by attaching to users' networks using a specialized clip. And Apple Pay adds a "buy now, pay later" feature in iOS 16.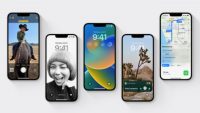 CarPlay is bringing Apple widgets to automobile instrument panels — displaying Apple's version of speed, levels and trip info, as well as letting users control climate and music and entertainment choices — but "car companies haven't figured out if they'll let Apple CarPlay take over all the screens," cautions The Verge.
With iOS 16, Apple Fitness+ breaks free of the Apple Watch, coming to all iPhone users. The app was previously available only for the Apple Watch or iPhones paired with it. To emphasize added well-being for Watch owners, watchOS 9 is adding features including atrial fibrillation tracking, running metrics and medication alerts.
The new Stage Manager feature for iPadOS 16 and macOS Ventura "can automatically organize apps and windows in a single view on the left side of the display" and switch between views with a single click, writes Apple Insider, explaining that "the position of app windows will be saved and stacked together, making it easy to keep track of projects or tasks."
Using iPadOS 16, "iPads with an M1 chip can connect to an external display and Stage Manager is available for a Mac-like experience. Multiple apps can be viewed both on the iPad and external display," Apple Insider writes, concluding, "we're not quite as sold on the need for it on macOS as we are on how useful it will be for iPad users."
Among the improvements welcomed by The Verge are a new iPhone Lock Screen, with options to "customize font styles, display widgets, and Live Activities. Notifications now appear at the bottom of the screen so they don't hide device wallpaper. They appear in a stacked view, expanded list view, or hidden view."
"Apple's WWDC 2022: Everything Revealed in 14 Minutes" from CNET is a helpful quick hit for those looking for a recap of the event.
Related:
Apple Squeezes WWDC Keynote into a 180-Second Highlight Video, Digital Trends, 6/6/22
Here's Everything Apple Just Announced: New MacBook Air, MacBook Pro, M2 Chip, iPhone Software, CNBC, 6/6/22
Here's iOS 16, Apple's Software Primed for the iPhone 14, Digital Trends, 6/6/22
Apple Just Killed the Password – for Real This Time, Wired, 6/7/22
Apple Introduces Real-Time Security Updates for iOS and macOS, TechCrunch, 6/7/22
MacBook Air 2022: M2 Chip, New Colors, Thinner Bezels, and More, Digital Trends, 6/6/22
iOS 16 Will Support Nintendo's Joy-Cons and Other Game Controllers, Engadget, 6/7/22
macOS Will Soon Block Unknown USB-C Accessories by Default, TechCrunch, 6/7/22
In iOS 16, Apps Can Trigger Real-World Actions Hands-Free, TechCrunch, 6/7/22
Topics:
App
,
Apple
,
Apple CarPlay
,
Apple Fitness Plus
,
Apple Mail
,
Apple Pay
,
Apple Watch
,
Automobile
,
Buy Now
,
Continuity Camera
,
iOS 16
,
iPad
,
iPadOS 16
,
iPhone
,
M1 Chip
,
M2 Chip
,
MacBook Air
,
macOS Ventura
,
Mobile
,
Passkey
,
Password
,
Safari
,
Spotlight
,
Video Call
,
watchOS 9
,
Webcam
,
Widget
,
WWDC 2022