IDC reports that the first time, Android has reached more than 80 percent market share for global smartphone shipments. Third-quarter numbers indicate that 261.1 million smartphones were shipped worldwide, of which 81 percent run Google's operating system. A Strategy Analytics study released last month revealed similar findings. Samsung currently holds the lead for phones running Android. Additionally, Windows Phone shipments jumped 156 percent year-over-year.
The new Worldwide Quarterly Mobile Phone Tracker report was released on Tuesday by the International Data Corporation (IDC).
According to the IDC press release: "iOS, despite seeing its total volumes increase and reaching new record third quarter volumes, saw its market share decline during 3Q13, most likely due to soft demand in the weeks leading up to the launch of iOS 7 smartphones. Still, if the 9 million units sold during the last week of September is any indication of future adoption, iOS stands to reap another record quarter in terms of volumes, market share, and year-over-year growth."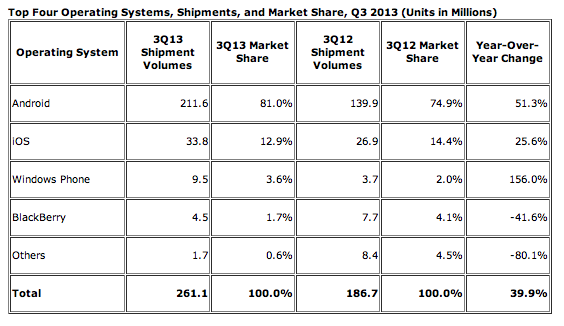 "Android and Windows Phone continued to make significant strides in the third quarter. Despite their differences in market share, they both have one important factor behind their success: price," said Ramon Llamas, research manager with IDC's Mobile Phone team. "Both platforms have a selection of devices available at prices low enough to be affordable to the mass market, and it is the mass market that is driving the entire market forward."
CNET notes that several manufacturers run Android on their smartphones: "Of these vendors, Samsung gained the most market share. The Galaxy S4-maker ruled 39 percent of all Android smartphone shipments in the third quarter. The majority of the other vendors saw market share within the single digits or less."
While Windows Phone shipments jumped 156 percent year-over-year, its market share is still less than 5 percent. However, this is still seen as good news for Microsoft since it indicates that consumers are purchasing the phones at a rapid rate.
"A whopping 93.2 percent of all Windows Phones shipped in the third quarter were made by Nokia," adds CNET.
According to IDC, BlackBerry experienced the largest year-over-year decline among the leading operating systems.
Topics:
Affordable
,
Android
,
Apple
,
BlackBerry
,
CNET
,
Cost
,
Decline
,
Galaxy S4
,
Global
,
Google
,
IDC
,
iOS
,
iOS 7
,
iPhone
,
Llamas
,
Manufacturer
,
Microsoft
,
Milestone
,
Mobile
,
Nokia
,
Phone
,
Price
,
Report
,
Research
,
Samsung
,
Share
,
Smartphone
,
Study
,
System
,
Tracker
,
Trend
,
Windows
,
Windows Phone
,
Worldwide